Organise a street party
Meet your neighbours, celebrate an event or mark an occasion with a party.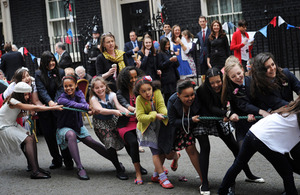 What is it?
It's easier than you might think to organise a local street party. It's a great way to meet your neighbours, celebrate national or local events, or just say thanks to someone in your area.
How can I get involved?
You don't need to fill in complicated forms to ask for a street closure to have a street party.
All your council needs to know is where and when the closure will take place so they can plan around this (for example, so that the emergency services know).
Enter your postcode here to find out how to apply to hold a street party in your area.
Your council shouldn't charge you for a road closure - if your council tries to charge you for this, you can challenge them about it.
If you don't want to close the road, or you can't close it (for example, if you live on a main road), you could consider organising a 'Street Meet' on private land instead, such as a driveway or garden.
Licences and insurance
You don't need a licence for food, alcohol or entertainment unless you're planning to charge or open your event to the general public.
You also don't need to have public liability insurance. If your council insists on it you can challenge them about this.
Read the step-by-step guide for more information about organising your street party.