Case study
Working in enforcement for Monitor
Ron Agble, an NHS secondee, gives an insight into his role as Enforcement Director, Provider Regulation: Enforcement.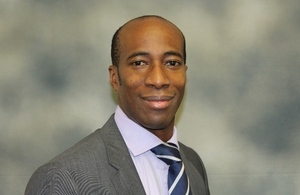 Why did you join Monitor?
Having worked in healthcare provision as a doctor and (latterly) Head of Programme Delivery at a foundation trust – and also undertaken a senior policy delivery role at the Prime Minister's Delivery Unit – I wanted to broaden my health sector experience and network through working at the sector regulator. I also felt that my 'frontline' NHS understanding and central government knowledge would be useful contributions to the Enforcement team at Monitor.
What do you enjoy about working here?
I enjoy working with leaders, managers and clinicians to help them deliver positive change in their health and care systems. I really enjoy the stimulation and energy provided from working with a bright, technically proficient and determined team. There is a real 'can-do' attitude, which is refreshing, especially in the context of a health system that is feeling challenged in so many ways.
Published 17 February 2015