UK government helps Holdtrade Atlantico win business in Colombia
Rail services joint venture Holdtrade Atlantico signs Memorandum of Understanding for a £47 million contract in Colombia.
This case study was withdrawn on
This page has been withdrawn because it's out of date. For information on exporting visit great.gov.uk.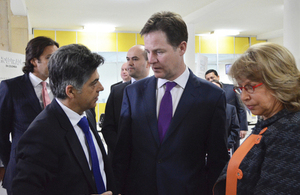 This company was assisted by UK Trade & Investment (UKTI), which has since moved to the Department for International Trade (DIT).
Political and business support from the Foreign & Commonwealth Office (FCO) and UK Trade & Investment (UKTI) has laid the groundwork for Holdtrade Atlantico's entry into the Colombian market.
UKTI provided letters to the Colombian equivalent of Companies House to vouch for the company's credentials following the creation of the Holdtrade Atlantico joint venture in July 2013.
Matt Burrow, Managing Director of Holdtrade (UK) Ltd said,
Our relationship with the British Embassy, UKTI and FCO teams in Bogota has been key to our entry into this market.
Holdtrade Atlántico is now in the process of securing a train licence with the Colombian Minister of Transportation to operate train services on 2 railway lines.
The rail transportation service company has also:
signed a Memorandum of Understanding (MOU) involving a £47 million investment for transporting oil by rail with a Colombian oil company
secured a development contract with a top 10 Colombian company
identified a pipeline of 15 potential clients, including a coal company needing to transport 6 million tonnes of coal a year from mines close to Bogota
2012 National Infrastructure Congress
Holdtrade was one of 15 British businesses in a delegation organised by UKTI to the National Infrastructure Congress in Cartagena, Colombia, in November 2012. The mission was supported by the FCO's Commercial Diplomacy Fund.
During the mission Holtrade UK met important people in the country's transport arena, including the Minister of Transport, the Minister of Agencia Nacional de Infraestructura (ANI) and local businesses. It also led to front page media coverage for Holdtrade.
Matt Burrow said,
During the mission in 2012, their personnel, including the Ambassador, the Director of UKTI and the Head of the FCO Prosperity team pulled out all the stops to really look after the delegates and enter into discussions with key Colombian decision makers on our behalf.

They facilitated crucial, quality introductions and we have ongoing interaction with almost everyone we met through them. Relationships are critical when you're building a reputation in a new market. Thanks to both UKTI and FCO staff at the Embassy, we have a head start.
Ongoing support
UKTI continues to support Holdtrade Atlántico's business.
The company was invited to make a presentation to Deputy Prime Minister Nick Clegg during a visit to Colombia in February 2014. UKTI arranged for the high profile event to be covered by railways and logistics press, in Spanish and English.
Matt Burrow says,
UKTI are really good communicators. The press coverage that they secured for us around the Nick Clegg visit was invaluable. We could not have attracted this media interest on our own.
Holdtrade Atlántico
Holdtrade Atlántico is a joint venture between Holdtrade (UK) Ltd. of London and Iowa Pacific Holdings, LLC of Chicago.
The company was set up to capitalise on the combined expertise of these 2 companies.
Holdtrade is the UK's largest supplier of track and related materials for industrial railways.
Fast facts
Company: Holdtrade Atlántico
Industry: Railways
Target Market: Colombia
DIT Services: Events, Missions
Website: www.holdtrade.co.uk
Published 15 October 2014