UK government helps Craft Buddy to take business global
UK company Craft Buddy is embarking on an export push with support from UK government and has found new customers overseas.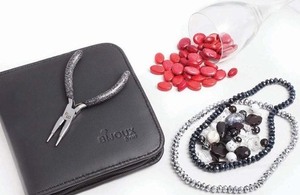 This company was assisted by UK Trade & Investment (UKTI), which has since moved to the Department for International Trade (DIT).
Craft Buddy has enjoyed the benefits of ongoing advice from an International Trade Adviser (ITA). The company has also received funding for costs of exhibiting at an international trade fair. This has already resulted in new European customers and a renewed drive to do business beyond the UK.
Craft Buddy sources jewellery-making kits, paper craft and haberdashery, home décor and wedding decorations for sale through retailers like John Lewis, QVC, eBay, Amazon and the company's own website. In just 3 years, it has grown to employ 7 people and achieve a turnover of £750,000.
Gary Wadhwani, who co-founded the company with his brother Dino says:
In recent years, there's been a huge revival in crafts and do-it-yourself customisation in the UK. From wedding invitations to jewellery, people are enjoying the feeling of accomplishment that comes from creating something with their own hands.

When money is tight, upcycling old clothes and embellishing shabby furniture to extend their useful life is a popular alternative to buying new. It's good for the pocket, and for the environment too.
Export plan
In September 2012, Craft Buddy exhibited at Autumn Fair, a UK exhibition at the Birmingham NEC. The company met a UKTI representative who talked about the export support that UKTI offers to British businesses.
As a result, Gary joined Passport to Export, the UKTI programme that helps businesses prepare for international markets. Gary was able to attend seminars that gave him an overview of doing business overseas. The company is regularly meeting with an ITA to discuss the different aspects of exporting. This includes e-commerce and online platforms.
Gary says:
We were provided with a very useful as an introduction to exporting. Often when you're running a business you don't have time to sit and structure your thoughts about expanding overseas. UKTI helped us to lay out a clear road map.

We have a good relationship with our ITA. He's local to us and he's run his own business, so he's aware of the issues we need to consider. He helps us cover things we're already familiar with, but also areas we haven't thought of. As a result we have implemented several initiatives that have made us more marketable overseas.
Exhibition success
UKTI encouraged Craft Buddy to exhibit at its first foreign trade exhibition in January 2014 at Creativeworld in Germany. The company received £1500 funding through UKTI's Tradeshow Access Programme (TAP) towards the cost of exhibiting.
In preparation for Creativeworld, Craft Buddy visited the UKTI team in Germany to discuss its plans for the show. The company commissioned an Overseas Market Introduction Service (OMIS), asking UKTI to contact German importers and retailers on its behalf. Craft Buddy were able to follow up with these contacts during the event.
As well as several new leads at Creativeworld, the company received 6 new orders from buyers in the Netherlands, Malta and one of Germany's largest candle makers.
As Craft Buddy continues its plans for expansion into Europe, it is in talks with a company in the Netherlands to launch Craft Buddy NL. This will manage online retail sales through platforms in the Netherlands, such as Bol.com.
It is also already making the most of Amazon's global brand, selling into Germany, France, Spain and Italy through its country-specific sites.
In early 2014 it recruited its first foreign speaking employee, an Italian native also fluent in Spanish, to further its overseas retail ambitions.
"International exhibitions can be daunting in terms of the risk involved, the logistics of getting your stock out there and setting up a stand that will attract buyers," says Gary.
"Having funding from UKTI was the push we needed to exhibit at an overseas trade show. Whilst there, we took the opportunity to meet with an existing client, QVC Germany, which has enhanced our relationship with them."
Gary adds, "Of the 6 new customers we met there, 4 have already placed repeat orders. We are now actively pursuing business with the leads we developed with the other major retailers. In all, Creativeworld was an invaluable experience for us. We have already secured a TAP grant to return to the show in January. This time we'll be wiser and hope to have even more of an impact."
DIT's e-Exporting Programme
UK companies are well placed to take advantage of digital opportunities that will allow them to access international markets. By joining UKTI's e-Exporting Programme, UK retailers and brands can reach consumers overseas through online channels.
Published 8 September 2014