Case study
UK government helps Cath Kidston find franchise partner in the Philippines
Overseas sales are expected to exceed domestic sales in the next 18 months as Cath Kidston grows through an international franchising model.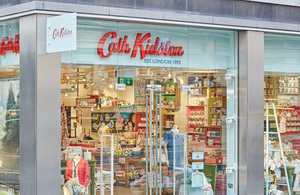 This company was assisted by UK Trade & Investment (UKTI), which has since moved to the Department for International Trade (DIT).
Fashion and home furnishings retailer Cath Kidston recently worked with UK Trade and Investment (UKTI) to find a franchise partner in the Philippines.
Cath Kidston uses an international franchise model to expand overseas. Franchise partners are largely free to choose whichever of its products they think will best suit their markets.
The Suyen Group was one of the names UKTI Philippines provided when asked for support. It proved a good match and has since become the company's in-market partner. A partnership agreement was signed in November 2014.
Daniel Poppleton, International Director,Cath Kidston Limited said,
UKTI provided exactly the informal support that we needed - checking the names we had identified as potential partners and introducing us to additional contacts, one of whom is now our partner.
In the next 5 years, Cath Kidston plans to open 5 to 7 new stores in the Philippines, particularly in Manila. It also expects to grow its business more broadly in the region, adding 20 to 30 stores each year.
Experienced exporter
Cath Kidston is an experienced exporter. The company opened its first overseas store in Tokyo in 2006. Today, it has 30 stores across Japan.
Cath Kidston reached out to UKTI teams in local British embassies for on the ground support as it started out in new markets.
As its business across Asia has grown, an office in Hong Kong opened in 2012 to support the region. It has grown from 2 to 10 employees.
Expansion overseas
In 2012, having identified the Philippines as a potential target, Cath Kidston sought UKTI's guidance in collating a shortlist of potential franchise partners.
In November 2013, Daniel visited the Philippines, spending half a day with each contact on his list. He came away with non-disclosure agreements with 3 of them and went back in mid 2014 to review their proposed business plans.
In November 2014, the company finalised a partnership with the Suyen Group, one of the names that UKTI had provided.
The Suyen Group opened the first Cath Kidston Philippines store in Manila in December 2014.
Expansion through franchising
Daniel Poppleton says,
The main challenges of exporting are choosing the right model, and finding the right local partner.

When selecting a franchise partner, we are looking for someone who we can work with in good and bad times. We have the brand expertise, they have market knowledge, and we each respect what the other brings to the relationship.
Continuing support
UKTI has remained a supportive influence, alerting the company to opportunities to promote itself in this market.
In February 2015 Cath Kidston participated in a 3 day Great British Festival organised by the British Embassy in Manila which was an opportunity to:
be seen by an audience of 400,000
strengthen its profile
participate in a range of networking activities
Daniel Poppleton says,
Our Britishness is a big part of our brand and product design.

Being part of an event like the Great British Festival generates press coverage and leads for us, as well as enhancing our credibility as a British brand. We're excited about our future in the Philippines.

We know that our offer is relevant to this market and priced appropriately to deliver profit for our franchise partner and ourselves. We are looking to create sustainable, long term growth both here and across the broader region.

UKTI's service is great value for money. They give us an unbiased view of opportunities, they are available and responsive and their goal is simply to help British businesses to do well overseas.
About Cath Kidston
Cath Kidston has become an iconic British brand since opening her first shop in Holland Park, London in 1993. The company that bears her name has grown to 75 stores in the UK and 125 worldwide.
International business has increased by 25% each year over the past 3 years.
Cath Kidston has a turnover of £125 million, with 40% of retail sales coming from outside the UK. Its top markets are Japan, Korea and Thailand.
Fast facts
| | |
| --- | --- |
| Company | Cath Kidston Limited |
| Sector | Retail – giftware, home and fashion |
| UK region | London |
| Target market | Philippines |
| DIT services | Introductions, Events |
| Website | www.cathkidston.com |
Published 21 August 2015