Case study
Serco's partnership with UK government helps secure UAE wins
Support from UK government has enhanced Serco's credibility with local authorities in the United Arab Emirates (UAE).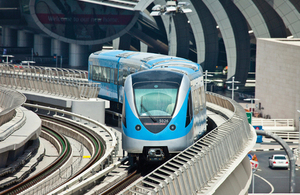 This company was assisted by UK Trade & Investment (UKTI), which has since moved to the Department for International Trade (DIT).
Through the High Value Opportunities (HVO) programme, UKTI has enhanced Serco's credibility with local authorities in the United Arab Emirates (UAE), allowing the company to successfully bid for transport projects worth over £800 million.
Serco has been established in the UAE for over 35 years and is today involved in several lucrative transport projects there. The company:
operates the Dubai Metro, the world's longest and most-advanced driverless light rail system. An original £400 million contract was renewed in October 2013 for a further seven years in a new agreement worth £350 million. This is one of Serco's largest contracts.
maintains and operates the Palm Jumeirah Monorail and an Automated People Mover at Dubai International Airport.
was awarded an £80 million contract to operate the Dubai Tram, beginning with 15 months of mobilisation followed by five years of service delivery.
The local UKTI team and British Consul General have been on hand to support Serco with these opportunities. When speaking to local government stakeholders, they make it clear that the company has strong credentials and is highly regarded by the British Government.
To be taken seriously by a public body in the UAE, a British company must be seen to have a strong relationship with the British Government,
says Chris Rayner, Managing Director in Dubai Metro, Serco Middle East.
Our association with UKTI and the British Consul General strengthens our credibility. We have always found UKTI to be available and accessible. They are good, down-to-earth people who go out of their way to help and are very keen to support our overseas business.
Reinforcing credibility
In June 2013, Serco was invited to join Transport Minister Simon Burns and a delegation of 17 UK companies on a UKTI mission to the UAE and Qatar. The company attended high level meetings with local authorities and stakeholders, several of whom were already its clients. This reinforced its strong connection with UKTI and the British Government.
The Gulf region is a hive of rail activity at the moment, with new metros being planned and built in Abu Dhabi and Riyadh,
says Chris.
It's good to see the British Government supporting our businesses in finding and securing opportunities in the Middle East. Even though we are already established in the region, being involved in an initiative like the UKTI mission reiterates that we have the support of the British Government.
Based in Hook in North Hampshire, Serco is an international company with over 120,000 employees and operations worldwide. The company is also one of the largest rail operators in the UK, operating London's Docklands Light Railway and, in join venture with Dutch company Abellio, Northern Rail and Merseyrail.
Fast facts
| | |
| --- | --- |
| Company | Serco |
| Sector | Railways |
| Target Market | United Arab Emirates |
| DIT Services | Trade Mission |
| High Value Opportunity | UAE Rail Project |
| Website | www.serco.com |
Published 19 March 2014