Case study
Modelling Exposure Through Earth Observation Routines (METEOR)
Earth Observation for robust exposure data and better-informed Disaster Risk Management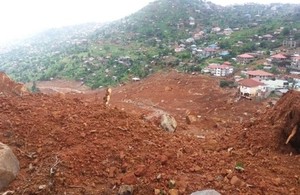 Project lead
British Geological Survey (Natural Environment Research Council)
Target country(s)
Nepal and Tanzania
Project consortium
Humanitarian Open StreetMap, ImageCat Inc, Oxford Policy Management, Fathom, Global Earthquake Model (GEM)
International partners
Disaster Management Department, Prime Minister's Office, Tanzania, National Society for Earthquake Technology (NSET)
Project summary
The escalating impacts of natural hazards are caused mostly by increasing exposure of populations and assets. It is estimated that the world will see the construction of 1 billion new dwellings by 2050 and this growth may lead to rapid increase in risk.
A major challenge when making Disaster Risk Management (DRM) decisions in ODA countries is a poor understanding of the distribution and character of exposure to these hazards. METEOR takes a step-change in the application of Earth Observation exposure data to allow quantitative assessment of exposure, leading to better-informed DRM decisions.
Working with partners in Nepal and Tanzania we will test and validate the process of producing and utilising exposure data. Co-designing results internationally will help improve response to hazards and promote welfare and economic development. Country-wide, openly-available exposure data will be rolled out for the 48 least developed ODA countries.
The project objectives are to:
Increase the resilience of Nepal and Tanzania to natural hazards through integration of robust and open building exposure data derived from satellite data.
Improve capacity for stakeholders in the use of exposure data in Disaster Risk Reduction (DRR) and DRM in Nepal and Tanzania.
Deliver robust and open protocols for exposure development.
Deliver open-source, national-scale building exposure data for all 48 counties on the DAC list of least developed ODA recipients.
Directly contribute to UN Sustainable Development Goals and Sendai Framework for DRR by improving resilience and adaptive capacity to hazards and substantially increasing the availability of and access to disaster risk information.
Objectives
Improved resilience and adaptive capacity of Nepal and Tanzania to climate-related hazards and natural disasters (SDG target 13.1).
Increased availability of and access to hazard, vulnerability and exposure information to inform risk assessments in Nepal, Tanzania and the other 46 least developed ODA countries (SFDRR Global Target 7).
A network of stakeholders in Nepal and Tanzania to act as 'lighthouse' to other 'followers' in their geographic regions regarding the sustainable use of EO data in DRR/DRM.
Openly available exposure data for the 48 least developed ODA countries, leading to increased insurability across the least developed ODA countries.
Published 27 July 2018