Case study
Joint working: Cumbria Police and Crime Commissioner, police and councils combine CCTV
The Police and Crime Commissioner, police and the local authority have worked together to develop a new CCTV system in Cumbria.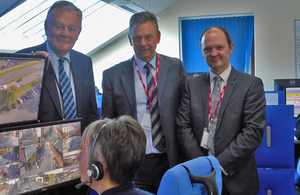 Cumbria is the second largest county in England and has some of the most rural and remote areas in the country. The Police and Crime Commissioner (PCC), police and the local authority have joined forces to develop an effective CCTV system that helps protect communities across the breadth of the county.
Richard Rhodes, Police and Crime Commissioner, said:
In 2012 there were 6 independent CCTV systems operated in Cumbria by 6 district councils. They were out-of-date, expensive to run and working on analogue technology. Added to this were funding shortfalls facing district councils which meant by the end of 2013 there wouldn't have been any operational CCTV cameras in the county.
Joined up
In Cumbria CCTV is viewed by the police as an important tool in deterring and resolving crime. It's important to ensure that relevant people are consulted before the installation of any scheme to ensure they support the use of CCTV.
Commissioner Rhodes added:
I spoke to each district council on the need for CCTV coverage and the response was that there was a need to protect their communities and to keep them safe from crime. But we also consulted businesses and residents through neighbourhood policing teams to get the community's input and the council's view was supported by these conversations.
Triple jointed
By working together, the PCC, local authorities and police were able to work with a consultant to develop a system that worked for the county. They have a CCTV scheme covering 6 towns that can provide reactive and proactive support to incidents with a single control room based at the police headquarters. They are also now able to transparently demonstrate to communities how CCTV has protected them by publishing monthly, quarterly and annual statistics.
Commissioner Rhodes said:
The partnership of PCC, police and local authority was the first of its kind in the county. The overall reaction has been that is has worked well and the real benefits are being felt by local communities. I would strongly recommend this multi-partnership approach and we will be looking as budgets allow other opportunities to collaborate on this scale.
Chief Constable Jerry Graham added:
CCTV is one of a number of important tools we can use to help solve crime and keep our local communities safe. The new system will provide consistent and improved CCTV coverage across Cumbria. CCTV acts as a deterrent for would-be criminals, helps track offenders, and gather evidence. It's been designed in a way that means it can be expanded in the future if required if/when additional funding can be secured.
This kind of joint working shows how public sector organisations can work together to provide a framework for CCTV that protects the community while maintaining their right to privacy as well as provide value for money.
Published 3 December 2015