Case study
Inmarsat - Nigeria Maternal Health Pilot Programme
Using a satellite solution to improve maternal healthcare in Nigeria.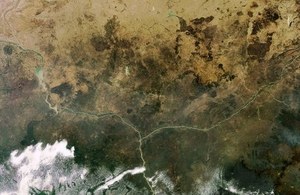 Project Lead
Inmarsat
Project consortium
Inmarsat, InStrat, Dalberg
International partners
Federal Ministry of Health, National Primary Health Care Development Agency, Federal Capital Territory (FCT) Administration: Health and Human Services Secretariat, Ondo State Primary Health Care Management Board, Kano Primary Healthcare Management Board.
Programme Summary
This pilot is for Dalberg to work with InStrat Global Health Solutions (a private health solution provider) to leverage the Inmarsat satellite solution deployed under the International Partnerships in Space Programme (IPSP), to expand access to its health applications across two new States (Ondo & Kano), plus one current state (FCT). The two implemented health applications are CliniPAK (facility based health information management application developed by Vecna Cares Charitable Trust) and ORB (video-based health worker training application curated and managed by mPowering Frontline Health Workers – a USAID funded program).
The selection of states for the testing was based on the strength of InStrat's pre-existing relationships (InStrat is active across six states in Nigeria) and the level of demand by State health authorities to deploying InStrat's supported applications to remote, disconnected areas within the states.
Programme Objectives
The Pilot Programme aims and objectives are to:
Work with InStrat to test out the use of the satellite solutions deployed under the IPSP to expand InStrat's offering to additional States in Nigeria.
Test partnerships with health technology implementing partner InStrat, who already supports locally relevant solutions and deep local relationships as a key determining factor influencing sustainable use of satellite to catalyse the emergence of digital economies in disconnected regions across the developing world.
Test two InStrat supported applications - CliniPAK (facility based health information management application) and ORB (video-based health worker training application) across six sites in three States of Nigeria. All sites are in healthcare facilities that had no alternative form of connectivity.
Identifying the right models of support that can help local partners navigate the execution challenges. This will be critical to sustainable use of satellite in Nigeria and similar economies.
Extension of remaining clinics bandwidth and support including Monitoring & Evaluation reporting.
Published 3 February 2017