Case study
Hawkshead Relish gets a taste for exporting
Cumbrian Handmade Relish Company is exporting globally, thanks to help from UK government's range of export services.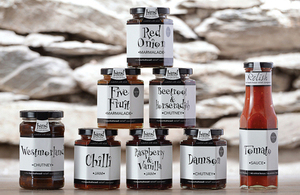 This company was assisted by UK Trade & Investment (UKTI), which has since moved to the Department for International Trade (DIT).
In the past 12 months alone, Hawkshead Relish Company has sold over £72,000 worth of relishes, pickles and preserves to customers outside the UK. These sales have come about as a direct result of the company working with UK Trade and Investment (UKTI).
To manage this increased business, a new 5,000 square foot warehouse in Cumbria has been acquired and 6 new staff members have been recruited.
Export experts
Keen to export, but with limited exposure to the practicalities, Hawkshead Relish turned to UKTI for support accessing markets in Europe.
An International Trade Adviser (ITA) came to meet Maria and Mark to discuss their plans and explain how UKTI could help. On his advice, they began with Passport to Export, the UKTI programme that helps businesses to prepare for international markets.
Maria Whitehead, co-founder, Hawkshead Relish Company said
Passport to Export was a really good introduction to export, covering a wide spectrum of information.

The private meetings with our ITA then helped us to drill down to what was important for us to know country by country. There's nowhere else you can get such impartial and clear advice.
New overseas business
Over the years, Hawkshead Relish has benefitted from various other UKTI services, including:
Overseas Market Introduction Service (OMIS) for Sweden and Russia, provided introductory information about these markets.
Trade missions to Austria, the Czech Republic, Spain and Russia - a distributor they met in Russia generated sales of £23,000.
Tradeshow Access Programme (TAP) funding to help cover the costs of attending international trade shows like Anuga in Germany, the New York Fancy Food Show in the USA and Gulfood in Dubai. These have resulted in orders from buyers in markets as diverse as Germany, Dubai, Oman, Norway, Malta and Australia.
Meet the Buyer events in London, through which the company secured business from Sweden and Australia.
Maria Whitehead said,
With UKTI, we are recognised as a credible company even if we are newcomers to the market.

TAP funding has meant that we can attend a show without worrying about whether it's worth the expense in terms of the returns we'll get, while exhibiting in the UK Pavilion draws in serious buyers so we can properly showcase our products in front of the right people.

We have been delighted with the volume of sales we have secured with UKTI's support, and will continue to work with them to grow our exports further.
About Hawkshead Relish
The company, which has a turnover of £1.2 million, takes its name from the historic village of Hawkshead in the heart of the English Lake District.
Its products are all handmade in small batches using traditional open pans and locally sourced ingredients, without any artificial flavourings, colourings or preservatives.
Hawkshead Relish Company's range of over 120 relishes, pickles and preserves has won over 50 awards.
In 2011, the husband and wife team behind Hawkshead Relish, Mark and Maria Whitehead, received MBEs in recognition of their work to support the food industry in Cumbria.
Fast facts
Published 15 May 2015