Global Threat Reduction Programme: Coalition of Nuclear Centres and Partners
The creation of alternative job opportunities for former Soviet nuclear weapons personnel.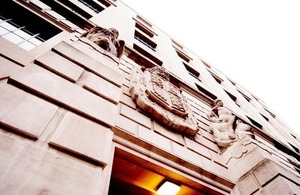 The Global Partnership's original priorities acknowledged that unemployed former Soviet nuclear weapons scientists and technicians possess knowledge of, and / or access to, nuclear technology and materials which could be of value to a proliferating state or to terrorist organisations.
Since the break-up of the Soviet Union in the 1990s, the Closed Nuclear Cities (ten centres of nuclear weapons research, production and maintenance) in Russia, and a number of nuclear institutes in former Soviet Union states (Ukraine, Kazakhstan, Uzbekistan, Armenia, Georgia and Belarus) have seen large-scale job losses and a lack of investment.
The Coalition of Nuclear Centres and Partners(CNCP) was established to counter this proliferation risk by supporting the creation of meaningful alternative job opportunities for former Soviet nuclear weapons personnel.
CNCP achieves its goals by providing:
investment grants for commercial civil sector projects
training for personnel, including study tours to the UK to share experiences
assistance in the establishment of commercial partnerships with UK companies
support for sustainable local economic development in the cities and institutes
To support networking and to publicise its activities, CNCP runs an active website and produces a regular newsletter.
CNCP is expected to exceed its objectives to create up to 3,000 lasting jobs by 2012, and for at least 55% of these to be for former nuclear weapons scientists and technicians (the current figure is around 65%). The final investment grants for new projects were made in March 2010 in order to allow for up to two years of support to grant beneficiaries prior to the Programme's planned completion in 2012, with efforts focused on improving outcomes and their long-term sustainability.
Through the CNCP, the UK has been able to share its considerable domestic experience of defence downsizing and restructuring, as well as the lessons learned from the earlier Global Threat Reduction Programme initiative addressing the Social and Economic Consequences of Nuclear Power Plant Closure in Lithuania, Bulgaria and the Slovak Republic.
In 2010, Canada contributed C$1.5 million to CNCP, in a 'piggybacking' arrangement that has been widely and successfully used throughout the Global Partnership. The Canadian funded work programme will enable further job creation and help support the establishment of a sustainable infrastructure.
CNCP in the Russian Federation
CNCP is working in six closed cities: Novouralsk, Ozersk, Sarov, Seversk, Snezhinsk and Zheleznogorsk. A total of 2,345 jobs are planned to be created by 2012. Examples of job creation include:
Zheleznogorsk: 71 new jobs (42 filled by former employees from the city's plutonium production plant) created through funding to help an existing company to extend development and production of its energy-efficient heating units for residential, public and industrial buildings
Sarov: 10 new jobs created for former weapons personnel from the city's Soviet nuclear weapons research establishment, through funding enabling an existing spin-off business to expand production of vibration control and monitoring systems, the uses of which include measuring vibration in power plant turbines and generators
CNCP in Armenia, Belarus, Georgia, Kazakhstan, Ukraine and Uzbekistan
Across the former Soviet Union there are thought to be around 3,000 nuclear specialists possessing proliferation-sensitive knowledge. Most have poor career prospects and work for low salaries, with minimal prospects of securing legitimate, properly-remunerated and satisfying alternative employment.
The UK is supporting projects at nuclear institutes in Armenia, Belarus, Georgia, Kazakhstan, Ukraine and Uzbekistan. A total of 751 jobs are planned to be created by 2012.
Published 19 January 2013