Case study
Global Threat Reduction Programme: Atomflot spent nuclear fuel interim storage facility and site security upgrades
The UK's contribution to the safety and security of spent nuclear fuel (SNF) and radioactive waste in North West Russia.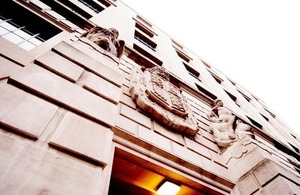 Global Partnership priority has been to make safe and secure the significant quantities of Soviet spent nuclear fuel (SNF) and radioactive waste stored in dangerous and inadequate conditions in North West Russia.
In 2008 the UK completed a £24.4 million programme of work to build a SNF interim storage facility at the Atomflot site near Murmansk, supply fifty SNF storage casks and improve the site's physical protection system. This facility is providing safe long-term storage for 3,500 spent fuel rods that cannot be reprocessed at the present time. The SNF has been in inadequate and dangerous floating storage on the nuclear submarine support vessel 'Lotta', which supports nuclear submarine decommissioning by carrying SNF from shipyards to Atomflot for dispatch to the Russian reprocessing plant at Mayak in the Urals.
Russia began to repackage and transfer the SNF from the 'Lotta' in 2008 and expects to complete this process in 2012. By the end of 2010, 26 casks had been filled and placed in the store.
The UK is now contributing to a modest three-year programme to support Atomflot in assuming full responsibility for the ongoing maintenance and upkeep of UK-funded security improvements.
Published 19 January 2013