Case study
Fast Forward Competition 2014: Sports Innovation Challenge
The University of Stirling were awarded nearly £99,000 in the 2014 Fast Forward Competition to fund their 'Sports Innovation Challenge' project.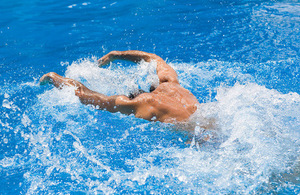 Innovation and entrepreneurship in sport
2014 was a unique time in sport for Scotland. The Commonwealth Games and Ryder Cup focussed the attention of the world on Scotland. The University of Stirling saw an opportunity to capitalise on this Scottish sporting fever. After winning Fast Forward Competition funding they then launched 'Sports Innovation Challenge'.
Sports Innovation Challenge encouraged entrepreneurship in sport. It gave entrepreneurial students the opportunity to propose sports-related business ideas. It encouraged them to explore their IP and supported them throughout the innovation process. At the end of the process the university awarded the best projects a share of the £15,000 prize fund. This financial boost was then combined with the business support needed to form new companies.
Through a series of free seminars and workshops, students developed their sports-related businesses. Teams of mentors then took entrants through each step of creating a business. This approach meant that students from all academic backgrounds were able to compete in the Challenge. The most promising students pitched their ideas to a panel of expert judges with three winners sharing the prize fund.
Real world business skills
Engagement with the Challenge exceeded initial expectations. 11 Scottish universities and more than 250 students took part. Students came from all academic backgrounds, from Sport Management to Chemistry and Psychology. Of those students, 80% of them had never entered an enterprise competition before.
Engagement from the enterprise community and industry was just as strong. Sporting Chance Initiative and Stirling University Innovation Park were key partners in the Challenge. The Scottish Institute for Enterprise were also involved delivering a series of 'Idea Labs'. These workshops introduced students to customer-led design thinking using new sports-related video material. Other workshops developed general business skills while also showing the value of IP in sport.
Real world business experience and excellence in enterprise were at the heart of this project. The judging panel was a prime example. It contained representatives from Adidas, Skyscanner, Anytime Leisure and We Are The Future. Anytime Leisure and We Are The Future were particularly relevant to the students. They're both based in Edinburgh and are both innovative start ups, so prime examples of an enterprising spirit.
Award winners
The team at Stirling were keen to make this Challenge different to other enterprise competitions. They combined workshops and seminars from enterprise groups with dedicated IP sessions. They also offered individualised coaching from leading businesses and entrepreneurs. The aim was to provide a bespoke sports innovation development experience. Through involvement of leaders in the sports and innovation community they achieved just that.
There were twenty applications which the Challenge team shortlisted to ten finalists. Winners were announced at the Sports Business Innovation Awards 2015 in Glasgow on 11 March 2015. The three winning projects were :
Lonely Mountain Skis – bespoke ski design and construction
Shotscope – golf performance technology
TurtlePack – swimming teaching apparatus
Each winner received an award of £5000. They also received support and mentoring through the Stirling University Innovation Park. To foster an innovative spirit they have desk space at the Stirling University Innovation Park for 12 months. They also have access to a personal business advisor for that time.
Sporting ambition
The Challenge was designed to benefit everyone that took part and not just the winners. Jake McGrath, a Masters Student in Sport Management at the University of Stirling said :
When we entered the Sports Innovation Challenge I had little knowledge about taking an idea to market. The Challenge offered me an entirely new career path. It showed me that entrepreneurship is not only exciting but a realistic career choice to consider.
The Challenge has been ambitious in its scope, tempered with a focus on individuals. This unique approach has resulted in the Sports Innovation Challenge becoming a respected part of the student enterprise community in Scotland. It's also one that is exciting in its potential and scope, with high hopes for the three winning projects.
Published 9 July 2015