Case study
Dryden Aqua grows its exports with help from UK government
Sustainable water treatment specialist Dryden wins business in Bangladesh, India and the United Arab Emirates (UAE).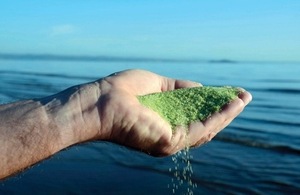 This company was assisted by UK Trade & Investment (UKTI), which has since moved to the Department for International Trade (DIT).
Support from UK Trade and Investment (UKTI) has helped marine biology company Dryden Aqua to significantly grow its exports. Its flagship product AFM® Activated Filter Media is used in water filters as a highly effective alternative to sand, to remove harmful organisms and toxins from water. 90% of sales of AFM® are now to overseas markets.
Howard Dryden, Chairman and Founder of Dryden Aqua said,
UKTI's support helps us to get traction in a new market.
Winning business in India
Dryden Aqua received funding through UKTI's Tradeshow Access Programme (TAP) to attend WAVES International Expo 2013 in New Delhi. At the show, UKTI also brought contacts to meet the company and made introductions to potential industrial partners.
Howard Dryden said,
Exhibiting with them at an international event gives us a good position and reduces our costs. The introductions that UKTI arranges for us help us make the most of our time.
Howard Dryden took the opportunity to meet SVS Aqua Technologies, a distributor from Pune with whom he had already been in email contact. He subsequently signed a Memorandum of Understanding (MoU) with SVS in October 2013.
UKTI's regional partner, Scottish Development International, arranged for Humza Yousaf, Scottish Minister for External Affairs and International Development, to attend the MoU signing. New business in India is expected to be worth £120,000.
Howard Dryden said,
Having Minister Yousaf attend the signing of our MoU with SVS Aqua Technologies helped to secure media coverage of the event and raise our profile. It showed that we are aligned with the government, which gives us credibility.
Dryden Aqua has joined a consortium of businesses working on ECO-India. This European Union (EU) funded project aims to design and develop innovative cost-effective solutions for water and wastewater treatment. AFM® is being piloted to remove arsenic from drinking water in a village north of Kolkata.
UKTI Kolkata took an Indian delegation to Dryden's plant in Edinburgh in March 2014. This was a platform to showcase its capability, present to potential clients and discuss opportunities for cooperation. In September 2014 Ion Exchange, one of the Indian companies from that delegation, placed a trial order with Dryden Aqua.
Howard Dryden said,
It's early days for us in India, but we see a lot of potential there. Looking forward, we shall need UKTI support to find more distributors in this market, to link with the corporate social responsibility teams of large organisations like Tata that can help to finance equipment, and to get the word out about AFM®.
Export success in Bangladesh
Howard Dryden attended a seminar organised by UKTI in Dhaka, Bangladesh in March 2013. During his visit he was briefed by UKTI on the local business environment and opportunities in Bangladesh that were not widely known about.
Dryden Aqua has since secured a £100,000 contract with Square Pharmaceuticals for water treatment of all the water entering its facility.
Success in UAE
Dryden Aqua has also worked with UKTI to build up its business in the UAE.
The company has sold:
swimming pool systems to His Highness Sheikh Mohammed bin Rashid Al Maktoum, Vice President and Prime Minister of the United Arab Emirates and Ruler of Dubai

an AFM treatment system for the aquarium at the iconic, sail-shaped Burj Al Arab Jumeirah Hotel

a water treatment system for the 5-star Atlantis hotel complex
Howard Dryden said,
We have been going to Dubai for around 10 years, several times with UKTI's support.

We have already provided our systems into high profile locations and we're now helping to design the new zoo being built there. Around 80% of the world's desalination projects are happening in the Gulf region so we see this as an area of huge potential growth for our business.

We find that UKTI can open doors for us with people it would otherwise be hard to access and we shall continue to work with them as we expand in and beyond these markets.
China
Dryden Aqua are also pressing forward with plans for China. UKTI are helping the company to build useful relationships through their local networks.
UKTI Beijing took a Chinese delegation to visit the Dryden Aqua plant in March 2014. The company also currently has 4 trials running in Beijing and Guangzhou.
About Dryden Aqua
Dryden Aqua's manufacturing and research is based in Edinburgh. The company has a turnover of £5 million. The company also exports to Norway, Chile, North Africa, the Philippines, Thailand and Malaysia.
Fast facts
Published 14 January 2015