Case study
Delcam doubles business in Mexico
Through its trade missions and events, UK Trade and Investment (UKTI) supported Delcam in Mexico through a growth of over £750,000.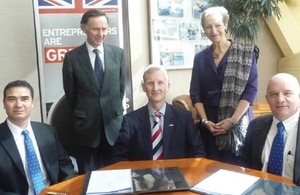 Delcam is one of the world's leading suppliers of advanced computer-aided design and computer-aided manufacturing (CADCAM) technology solutions.
UKTI has been providing Delcam with support since 2005. They have participated in UKTI industrial trade missions to Mexico – one focussed on aerospace and one on the automotive sector. The UK company has also taken part in other UKTI programmes, including market visits to the USA, Brazil and Argentina, through which it found a new reseller.
Making it in Mexico
UKTI facilitated introductions to major industrial players and invited Delcam to participate in various events. These included exhibitions, VIP visits and networking opportunities, where Delcam have been able to promote their products and services.
Pedro Leon, Business Development Manager, Latin America for Delcam said:
Over the years, UKTI has been instrumental to our success.

Their in-country specialists understand the business culture and industry and give us market intelligence and access to high-level contacts in industry and government that we would not have otherwise met. Being part of UKTI-organised events gives us a differentiated market exposure.
On-going success
2012 was a highly successful year for Delcam in Mexico. Sales to automotive clients including Nissan, Volkswagen and a major player in the local footwear industry, contributed to revenues of over £650,000.
In 2013, Delcam invested in a joint venture with its long-standing local reseller, TCM. The signing of the agreement was attended by the (previous) Minister of State for Trade and Investment, Lord Green, and the British Ambassador and Head of UKTI Mexico.
Pedro said:
The ministerial support that UKTI secured for us attracted wider media coverage, raising the profile of Delcam Mexico and highlighting us as an example of British technology succeeding in this market.
Delcam Mexico's success continued in 2014, with over £750,000 worth of revenue generated from software sales and maintenance services alone.
About Delcam
Delcam has over 700 employees, 330 of which are based at its UK headquarters in Birmingham. Its software is used in over 90 countries by more than 50,000 organisations from a range of sectors, including aerospace, consumer products, footwear, packaging and healthcare.
In 2013, it entered a new joint venture with TCM and has since had its best year ever in this market. It has also put in place a graduate programme to generate new support engineers.
Today, over 80% of Delcam's business comes from outside the UK, with 350 reseller offices around the world and an annual turnover of £60 million a year. The company has already won 6 Queens Awards for Enterprise.
Fast facts
Company: Delcam
Industry: Software / Manufacturing Industries
Target markets: Mexico
UKTI services: Trade Missions, Events
Website: www.delcam.com
Published 13 February 2015