Fostering climate resilience for small island nations using remote sensing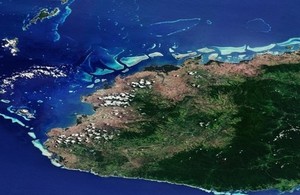 Project lead
United Nations Institute for Training and Research (UNITAR) – Operational Satellite Applications Programme (UNOSAT)
Target country(s)
Fiji, the Solomon Islands and Vanuatu
Project consortium
Satellite Applications Catapult, UK Met Office, Devex, University of Portsmouth, Commonwealth Secretariat, Radiant. Earth, Sensonomic.
International partners:
Fiji Ministry of Lands & Mineral Resources
Solomon Islands - Ministry of Environment, Climate Change, Disaster Management & Meteorology
Vanuatu Ministry of Climate Change Adaptation, Meteorology, Geo-hazards, Environment & Energy
Vanuatu National Disaster Management Office (NDMO)
Project summary
Small island nations located in the Pacific are exposed to the damaging effects of climate change. Such changes in the climate system have direct effects on the livelihoods, the economy, overall development and the very existence of many small island nations. Urgent action towards increasing the capacity for climate resilience is therefore required.
The overall aim of CommonSensing is to use satellite remote sensing for applications that support three Commonwealth countries: Fiji, the Solomon Islands and Vanuatu to improve national resilience towards climate change. The project's main output is to provide the evidence and data needed for these island states to be able to apply to the Commonwealth Climate Finance Access hub with a much higher degree of success then present. This will allow these island states to obtain the funding they need to protect critical infrastructure and build resilience into their economy to combat the growing effect of climate change. A key aspect of the project is its integration with the Commonwealth's Climate Finance Access Hub to use the established channels for increasing success in accessing climate funds.
CommonSensing will deliver impact in two main areas:
In terms of Earth Observation (EO) derived services, CommonSensing will use EO data to provide partners with access to vital information regarding disaster and climate risks to inform planning, food security needs and impact on the environment. This information will be readily available to users through easily accessible services.
In terms of sustainability and capacity development, partners aim to contribute to national and regional technical capabilities to inform policy and secure funding for climate change resilience programmes beyond the three-year project. In addition, CommonSensing consortium partners are committed to supporting the long-term sustainability of the information services they develop with the three country partners.
Ojectives
Objective 1: To increase national resource capacities in use of earth observation solutions to address Disaster Risk Reduction and Climate Change resilience in Fiji, Solomon Islands and Vanuatu by 2020.
How to measure:
Percent increase in financial support from Climate Funds compared to 2017 baseline data.
Percentage increase in number of successful applications submitted to Climate Funds based on CommonSensing solutions.
Percent reduction in number of Climate Funds allocated to countries, but not disbursed due to lacking implementation capacity.
Objective 2: To enhance evidence-based decision making by using CommonSensing Solutions for Disaster Risk Reduction and Climate Change Adaptation by end 2020.
How to measure:
Number of Governmental Ministries/Departments in target country Fiji, the Solomon Islands and Vanuatu using CommonSensing Solutions to inform policy and decision making.
Published 27 July 2018