Case study
Clyde Space (Southern Africa) Wildfire detection
FireSat – A Space Segment to compliment the Advanced Fire Information System.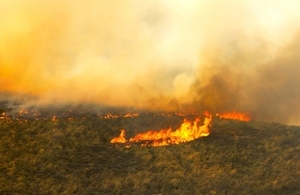 Project Lead
Clyde Space
Project consortium
University of Strathclyde, Satellite Applications Catapult.
International partners
Cape Peninsula University of Technology (CPUT), The Council for Scientific and Industrial Research (CSIR), Namibia University of Science and Technology, Technical University of Kenya, South African National Space Agency (SANSA).
Project summary
This FireSat pilot programme will demonstrate the ability of nanosatellite technology to deliver enhanced fire detection data to be implemented into the existing Advanced Fire Information System (AFIS), developed by the CSIR as well as provide capacity building for future skills, technology and applications development.
Africa is often referred to as the 'fire continent' and accounts for 70% of the total global wildfires and over 50% of the total area burned in the last two decades . These fire incidents are causing significant social, economic and environmental losses. Lloyds insurance market estimates that the impact to the South African economy alone is approximately £225 million due to wild fires over the past 5-7 years.
The FireSat demonstrator mission will see delivery of a space-based Earth Observation nanosatellite platform to detect wildfires in Africa. The FireSat payload is a k-line imager developed by the CSIR and provides a method of detecting smaller fires (90 m2) more effectively. This data will be implemented into AFIS, which is the data delivery mechanism for this project. AFIS combines satellite data with mobile technology to provide crucial information and near real-time alerts on wild fires. The system currently makes use of ground-based observation and satellite data from ESA and NASA to detect possible hotspots. A sophisticated processing system ingests satellite observations and populated the AFIS geo-spatial database and serves clients via SMS, email, web viewer, and mobile apps. Products such as monthly burned area estimates as well as daily and weekly fire danger forecasts are produced & disseminated to fire management teams who can respond quickly to extinguish the fire.
In addition, the programme also consists of an extensive capacity building element whereby a custom MSc course will be developed and nanosatellite Missions Labs will be commissioned. The MSc will be developed by the University of Strathclyde in the area of small satellite technology and applications to meet the needs of students in South Africa, Kenya and Namibia. This will provide students with the skills to ensure future technology development and commercialisation of technology on return to their home countries, in turn enabling considerable economic and societal growth. This aim will be furthered by the commissioned Missions Lab infrastructure to allow future nanosatellite technology, missions and applications to be developed in South Africa, Kenya and Namibia.
Objectives
The broad aims of this UK-Africa IPP are:
to augment the existing Advanced Fire Information System with new space-based data to provide improved observation of small (90 m2) fire events
to provide formal education and training and establish infrastructure to equip stakeholders in South Africa, Kenya and Namibia to develop technology and solutions to future challenges to drive economic growth
Published 3 August 2017