Guidance
Be on the Ball: 2018 FIFA World Cup
Guidance and tips for fans travelling to the 2018 FIFA World Cup in Russia.
Sign up for travel advice email alerts and receive updates for Russia.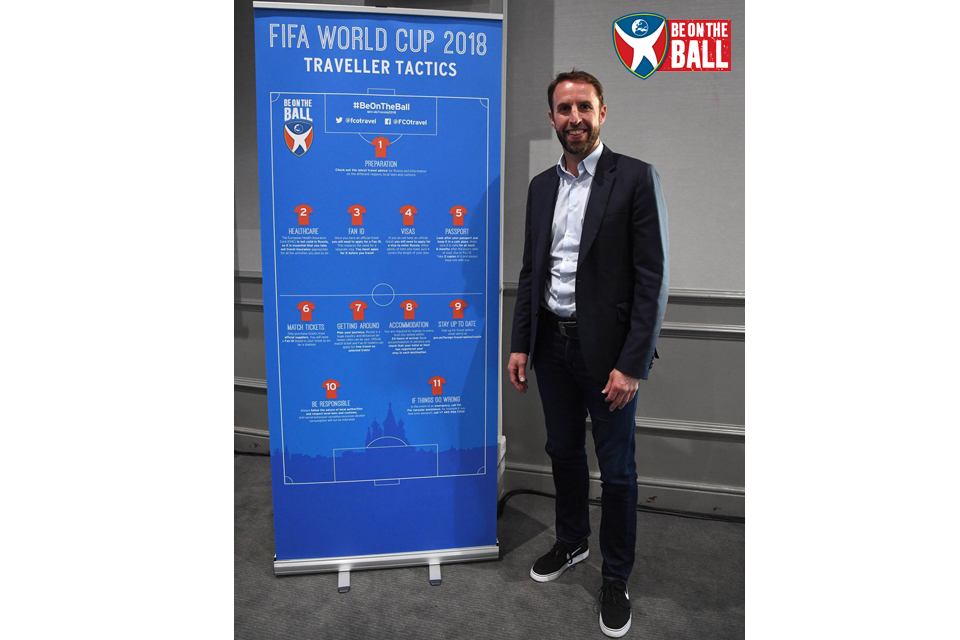 Tournament schedule
The 2018 FIFA World Cup is taking place in Russia until 15 July.
There are 11 host cities:
The England team are based in Repino, near St Petersburg. They were drawn in Group G and played Tunisia in Volgograd on 18 June. They will play Panama in Nizhny Novgorod on 24 June, and Belgium in Kaliningrad on 28 June.
Should England progress beyond the group stages, they could play in Moscow, St Petersburg, Kazan, Rostov-on-Don, or Samara.
Travel advice
Make sure you know the latest travel advice for Russia before you go. You can sign up for email alerts to be notified of any updates before and during your trip, and follow @FCOtravel.
The Football Supporters' Federation have published a guide to the tournament and what you can expect while in Russia. This includes detailed sections on each of the host cities.
Safety and security
The government's priority is the safety and security of British fans travelling to Russia for the World Cup. The overwhelming majority of visits to Russia are trouble-free. Since 2016, five British teams have played European matches in Russia, with no significant issues reported. However, we encourage British nationals to be good guests wherever they travel in the world, and to do their research before they travel to understand local laws and customs, so they can have a safe and enjoyable trip.
We continue to work with the Russian authorities. World Cups are largely trouble free events and co-operation is in place between the UK and Russian police to help ensure the safety of British nationals, which has included visits by the UK police to Russia and visits by the Russian police to the UK. British police are in Russia for the tournament. As with other major sporting events, if you are unexpectedly caught up in a disturbance involving fans you should go to a place of safety and follow the instructions of the local authorities.
The British Embassy will have a presence on match days in all of the cities that England play a game in. This will also apply on the day before and the day after each game.
British nationals needing help or advice during their stay in Russia can contact consular officers by telephone at any time by calling +7 495 956 7200 (in Russia) or 020 7008 1500 (from the UK). You may want to save these numbers on your phone. As well as the Embassy in Moscow, British Consulates in St Petersburg and Ekaterinburg will be operating throughout the World Cup.
The UK's National Cyber Security Centre has issued advice for fans travelling to Russia which you can find here.
Diversity
The Fare network have published a Diversity Guide to Russia and there are Diversity Houses in Moscow and St Petersburg.
Race
FIFA and the Russian Football Union have been clear that racist abuse will not be tolerated, and referees now have the power to call an end to a game if racist chanting is heard. If you hear any racist chanting during any games, you should report it to the nearest steward.
Kick It Out published a blog on their experience of Russia during last year's FIFA Confederations Cup.
LGBT+
Public attitudes towards LGBT+ people are less tolerant than in the UK. The Football Supporters' Federation have published a blog offering advice to LGBT+ fans travelling to Russia for the World Cup. You may wish to contact Pride in Football to make contact with other LGBT+ fans.
Host cities
There is an increased demand on flights, trains and hotels, so you should book early to avoid disappointment. For more information, visit the official tournament website.
Few of the host cities have had experience of hosting international events like the World Cup, and all have built new stadiums and transport infrastructure. You should note that the distance between each of them is considerable and will involve long journeys.
Nizhny Novgorod
The distance between Moscow and Nizhny Novgorod is 421km, with an approximate travel time of 1 hour 30 minutes by plane or up to 5 hours by train. The Nizhny Novgorod Stadium is close to the centre of the city on the banks of the River Volga.
Nizhny Novgorod (formerly known as Gorky) is the fifth biggest city in Russia, with a population of over 1.25 million people, and is an important historic site. Despite its size, there are only limited accommodation options.
Find out more about Nizhny Novgorod.
Kaliningrad
The distance between Moscow and Kaliningrad is 1,235km, with an approximate travel time of 2 hours by plane or up to 20 hours by train, which passes through Belarus and Lithuania. The Kaliningrad Stadium is not within easy walking distance of the city.
Kaliningrad is a Russian enclave located on the Baltic coast between Lithuania and Poland, with a population of around 460,000 people. Until 1945 it was part of Germany, and known as Königsberg. It is a significant military site and the headquarters for the Baltic Fleet. Accommodation options will be limited.
Find out more about Kaliningrad.
Travelling through Belarus
British nationals who are in possession of a World Cup FAN ID, a FIFA World Cup match ticket and a valid British passport will be able to enter and transit Belarus through any international border checkpoint without a visa. When entering Belarus, you will have to fill in an immigration card. You should retain this and present it to Russian border officials, in addition to your FAN ID and passport, when you enter Russia from Belarus. Your details will be cross-checked against FIFA's ticketing database.
These procedures apply if you travel by road or by train. If you're travelling by road through Belarus to Russia, you can only enter by 3 motorways: Brest-Moscow (E30/M1), Kiev - St Petersburg (P-23) or Homel-Bryansk (A240). No exit from Belarus into Russia will be allowed at any other border crossing points.
Current Belarusian immigration rules will apply if you're travelling without a FAN ID. See our travel advice for Belarus for more information.
Travelling through Lithuania
Travel advice for fans travelling through Lithuania
Travelling through Poland
Travel advice for fans travelling through Poland
Match tickets
Match tickets are sold through FIFA or national football associations. Tickets bought through unofficial means may not be valid. Ticket touts or individuals caught with forged tickets are likely to receive heavy fines.
FAN ID
You should apply for a FAN ID as soon as you have a match ticket. You will need to have your match ticket and FAN ID to access the stadiums. You must enter the stadium using the nominated entry point on your ticket.
Your FAN ID, will act as a multi-entry and exit visa to and from Russia. You may enter Russia using your FAN ID until 15 July and you must leave by 25 July. Your FAN ID will only allow you to enter Russia to attend the World Cup.
If you intend to travel to the World Cup and don't have a FAN ID, or if you intend to carry out any other activities (e.g. work or study) during your visit, then you will need to apply for the appropriate visa through the Russian Embassy in London.
Your FAN ID also enables you to apply for free train travel on selected trains during the tournament.
If your FAN ID is lost, stolen or has a technical error, you can get a replacement during the tournament from a distribution centre.
Entering and leaving Russia
You should make sure you're aware of the terms and conditions attached to your FAN ID or visa before you travel to Russia. If you're travelling through another country to get to or from Russia, make sure you check the entry requirements for that country and have any visas required.
If you have a FAN ID, then your passport should be valid throughout the period of your visit. If you are travelling with a visa, then your passport must have a minimum period of 6 months validity after the expiry date of your visa.
If you're travelling on a British passport issued since January 2017, you should make sure you've signed your passport with a black pen before you travel. Some British nationals who haven't signed their new passports have been denied entry into Russia.
You must sign an immigration card every time you arrive in Russia. This will be given to you at passport control. The card is in 2 identical parts. One part will be retained by the Immigration Officer. You should keep the other part safe as you'll need to submit this at passport control when you leave Russia. There are many hotels and hostels that will not accept guests without an immigration card. You can also be fined and your departure from Russia could be delayed.
If your passport is lost or stolen during the World Cup, then you will need to obtain a police report from the nearest police station and get an Emergency Travel Document. Once you obtain these, then you will need to apply for a new FAN ID. If you don't have a FAN ID, then you'll need to apply for an exit visa to leave Russia.
You will not be able to leave Russia if your FAN ID or visa has expired. In some cases, you may be required to pay a fine, be banned from returning to Russia, or have to attend a court hearing. If you need to extend your stay, you should enquire about this before your FAN ID or visa expires.
At the matches
During the World Cup, stadiums and FIFA Fan Fest venues will be protected by enhanced security measures. This will include limits on traffic as well as additional security checks.
You should use public transport to get to the stadium. Free public transport will be available to FAN ID holders. The exact routes and times will be determined by the local authorities.
Stadiums will typically be open 3 hours before kick-off. Allow yourself plenty of time to get there and to pass through the security checks. You will need to show your match ticket and a laminated FAN ID to gain entry. You should then expect to pass through security screening, which will include metal detectors. Don't bring large bags into the stadium as these may be taken from you, and you will need to collect them when you leave.
You can find details of prohibited items here.
All stadiums and FIFA Fan Fest venues reserve the right to refuse entry to anyone who is intoxicated and/or disorderly.
After the game, fans will exit the stadium on a phased release. You may be kept behind for up to an hour.
Disabled Access
CAFE have published a Spectator's Accessibility Guide for disabled spectators and spectators with limited mobility.
You may wish to contact Level Playing Field to make contact with other disabled fans, or - if you are a regular follower of the England national team abroad - sign up to the FA England Supporters Travel Club.
Flags
Supporters of all nationalities like to display their flags in public places. If you are doing so, please take the advice of the local authorities to help you to decide where you display your flag. You should always be sensitive to the feelings of others and you should be prepared to remove your flag if asked. You must obtain prior permission to bring a large flag or banner into the stadium.
Travelling around Russia
Detailed information on air, rail and road travel in Russia can be found in our travel advice.
Air travel
There are regular scheduled flights from London to Moscow and St Petersburg. For other host cities you will need to either use internal flights or travel from a third country.
Rail travel
All railway stations have airport style security. All bags will be scanned, and passengers will need to go through detector arches.
Holders of an official match ticket and FAN ID can apply for free train travel on selected trains between host cities. Transport 2018 provides details of how to register for selected trains. Tickets will be issued on a first come, first served basis.
Road travel
The AA and the RAC offer information and advice on driving in Russia, including information on compulsory documentation and equipment.
Driving is on the right hand side. Travel between cities can take a long time given the distance, heavy traffic in big cities, and poor road conditions. Road safety is poor. It is common practice for traffic police to stop motorists for spot checks. There is a zero tolerance policy towards drink-driving.
Registration
You'll need to register with the local authorities if you are staying anywhere for longer than 3 days. Your hotel will do this automatically. If you are staying in a rented or private apartment, it is your host's responsibility to carry this out but you should check this has happened.
Healthcare
You should ensure you have appropriate travel insurance, even if you're only coming for one match. Insurance can save you a lot of money if you get into difficulties. Your European Health Insurance Card (EHIC) is not valid in Russia.
TravelHealthPro have published advice for fans travelling to Russia for the World Cup.
Emergencies
Emergency services: Call 112 from any phone.
Consular assistance: British nationals needing help or advice can contact consular officers by telephone at any time by calling +7 495 956 7200 (in Russia) or 020 7008 1500 (from the UK).
Tips
Tell a friend or relative about your travel plans. Give them some idea of your itinerary if possible and an emergency contact number.
Check with your mobile phone provider to make sure your phone will work in Russia. Store useful numbers in your phone, such as the British Embassy (+7 495 956 7200) and the local emergency services number (112). To get a local SIM card, you may be required to provide your passport.
During the tournament, there will be official English speaking volunteers in each of the host cities available to help visitors.
Most major high street banks and currency exchange providers in the UK can pre-order roubles (Russian currency). If you plan to buy roubles in Russia, you should take US dollars or Euros to exchange. Only change money at banks, hotels and airport exchange bureaus. It is an offence to change money from street traders.
Let your credit/debit card provider know where you're going to avoid your card being blocked for anti-fraud reasons.
Most hotels, restaurants and larger shops accept credit cards. There are ATMs in most major cities. Travellers' cheques are not widely accepted.
It is advisable to have the cash equivalent of some £200 in Russian roubles with you to meet any expenses.
You should only travel in licensed taxis. Smartphone taxi apps are widely available. Keep a copy of your accommodation address in both Russian and English. Taxi drivers are unlikely to accept bank cards.
During the tournament, the sale of alcohol at events associated with the tournament may be restricted. The sale and consumption of alcohol in glass containers will be banned on the evening and day of matches in certain locations in host cities. The FCO have teamed up with Drinkaware to produce a guide with tips and advice on sensible drinking during the tournament.
Useful phrases
1 – "adin"
2 – "dva"
3 – "tri"
Thank you – "spasiba"
Hello – "zdrastvuite"
Bye – "da svidania"
Please – "pazhalusta"
What is your name? – "kak vas zovut?"
My name is… – "menya zovut…"
Entrance/exit – "vkhod/vykhod"
Please help me – "pazhalusta pomogite mne"
Bus – "avtobus"
Train – "poezd"
Metro – "metro"
Police – "politsiya"
I don't speak Russian – "Ya ne gavaryu pa-russki"
Do you speak English? – "vy gavarite pa-angliyski?"
What is your Wi-Fi password? – "kakoy u vas parol ot vay-fai?"
Published 23 June 2017
Last updated 21 June 2018
+ show all updates
Host cities section updated and link to Drinkaware tips and advice guide added.
Updates to tournament schedule and to the travelling to Kaliningrad sections.
Guidance refreshed to reflect that the tournament is now underway.
Guidance refreshed. Safety and security and Healthcare sections updated.
Guidance refreshed. Diversity section added
Guidance refreshed, official links to host cities added and new sections added on race, disability rights and LGBT+
Guidance refreshed and information on host cities updated.
Added in new section
New sections added on host cities where the England team will play
Added in section about 'At the matches'
update to passport information
First published.