© Crown copyright 2017
This publication is licensed under the terms of the Open Government Licence v3.0 except where otherwise stated. To view this licence, visit nationalarchives.gov.uk/doc/open-government-licence/version/3 or write to the Information Policy Team, The National Archives, Kew, London TW9 4DU, or email: psi@nationalarchives.gsi.gov.uk.
Where we have identified any third party copyright information you will need to obtain permission from the copyright holders concerned.
This publication is available at https://www.gov.uk/government/publications/govuk-notify/govuk-notify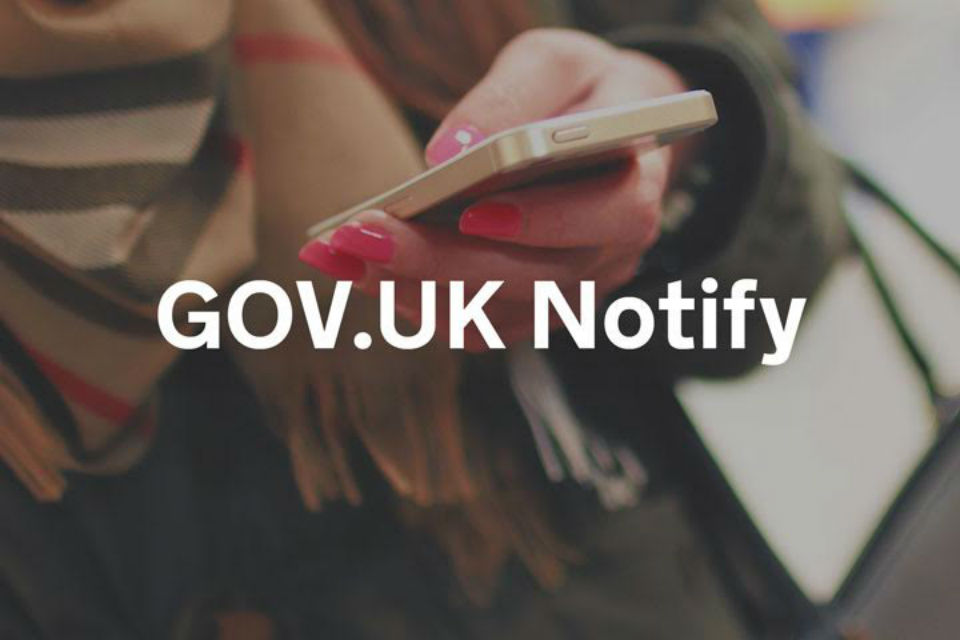 Government receives millions of calls every year from people anxious to find out about the progress of their application or whether we received their payment. People have to spend time on hold, which wastes their time and costs government a lot of money in call centre running costs.
GOV.UK Notify makes it easier to keep people updated, by helping service teams across government to send text messages, emails or letters to their users.
How GOV.UK Notify works
There are 2 ways government services can send notifications to users. They can:
do a simple integration with their web applications or back office systems
use our interface to upload batches of messages they've built or extracted from other systems
GOV.UK Notify provides flexibility and resilience by having a number of SMS, email and post providers. It's straightforward for us to swap these providers in and out, based on price, performance etc, with no effort or impact on government service teams.
GOV.UK Notify is for sending transactional messages, not for marketing. There is a risk that marketing messages may be reported as spam, which would affect delivery rates.
When can my team use GOV.UK Notify
 Central government
If you have an email address that ends with '.gov.uk' you can register and start using GOV.UK Notify in 'trial mode' - where you can use the service but only send things to yourself.
Local government
Notify is available to local government by invitation. Contact us for more information.
What it costs to use GOV.UK Notify
Visit our pricing page to see what it costs to send messages through Notify.
There's no monthly charge or setup fee.
Security
GOV.UK Notify has been through information assurance activities and been granted approval to operate by the Cabinet Office Senior Information Risk Officer (SIRO).
All data is encrypted, both as it passes through the service, and when it's stored in our databases. We only hold the absolute minimum personally identifiable data for the minimum period of time.
There's a flexible permissions model within GOV.UK Notify, allowing service teams to offer different functionality to different team members.
Finally, we're using an advanced API key standard, JSON Web Tokens, which provide a higher degree of protection for services integrating with GOV.UK Notify.
Learn more about security on Notify.
Availability and support
GOV.UK Notify is a high availability service with automatic scaling, failover and load balancing. It's also designed so that we can keep receiving notifications from services, even if there are problems sending them.
For email and text messages we have multiple delivery providers, concurrently integrated, which provides GOV.UK Notify with real-time failover capability.
GOV.UK Notify is supported 24/7 and there is a ticketing system and chat room for service teams to use to ask questions or raise issues.
You can also check our performance dashboard to see how Notify is performing.
Getting started
We want to make it easy for service teams to use GOV.UK Notify. It's possible to create an account for your service team, or even just to have a play with the platform, without first speaking to anyone. As long as you're in a central government department and have an email address ending in '.gov.uk', you can sign up, access API keys, build message templates and start sending yourself messages.
You can also use Notify if you're a government supplier. You'll need someone from government to set up a Notify account and invite you to join.
Notify is also available to local government by invitation. Contact us for more information.
Going live
Before you can start sending notifications to your service users, there are a few things that you'll need to do, that we'll need to know and support we'll provide to make it easy.
Templates
Templates are an important aspect of using GOV.UK Notify. So you'll need to set some up. These can be either generic, or can contain variables, like name, date etc so that the messages are tailored for the user.
All text messages and emails have to use a template. This is to make sure that you have some degree of control over the quality of the messages your service is sending out. This is true whether it's a notification being sent through the admin interface or through the API.
Integrations
You can integrate with GOV.UK Notify at any number of points within your service, whether that's a web application, a case management system or a document scanning system.
To make integration easier, we provide a number of supported client libraries in different programming languages for you to use.
Assurances from you
We'll need some assurances from service teams that the service they're integrating with is secure. If someone hacks into your service and starts sending things, then it undermines GOV.UK Notify.
We'd want an idea of what volume of messages you expect to send, so that if you suddenly start sending massively more than you thought, we can get in touch and see if anything has gone awry.
Repeatedly sending messages to invalid addresses would harm the credibility of GOV.UK Notify, potentially leading to messages being treated as spam. So we need to know that when failure of numbers or email addresses is reported back to you, appropriate action is taken to update or remove the incorrect or out of date contact information.
Learn more about the Notify terms of use.
Find out more
Go to the GOV.UK Notify site to:
find out more about the service
register for a trial account
contact the Notify team
We're regularly blogging about our work and you can find the latest updates on the Government as a Platform blog.