News story
Counter Terrorism Policing security advice
We depend on everyone to be our extra eyes and ears to help keep all of our communities safe. This is a reminder of our most important festive, and event security advice.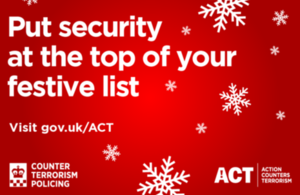 The festive period is a busy one. There are more events, more mail and deliveries, and more crowded places.
Here is a reminder of the steps you can take to support the police, protect your business, staff and customers, and make the UK safer for everyone.
Thank you for your support.
Published 5 December 2019