Lontra: new invention cuts energy costs by more than 20%
A new type of compressor devised by a UK business could be manufactured in the UK and grab a share of a £50 billion global market.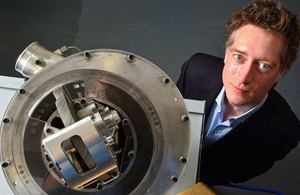 Design and engineering business Lontra has devised a new approach to compression that will save millions of pounds for the water industry and could be used for more efficient processes across wider industry.
Lontra's Blade Compressor® was developed with support from Innovate UK. It is a revolutionary new design for an air compressor devised by chief executive Steve Lindsey – hailed as the next Dyson by the Carbon Trust.
In a trial at Severn Water, the Blade Compressor® led to energy savings of 21.2%. Compressors are used to pump air into sewage. Use of compressors in sewage treatment accounts for 1% of all UK electricity usage. Other advantages of the Lontra compressor are that it is very reliable and oil-free.
Lontra has signed a multi-million pound licensing deal with Sulzer, a global leader in pumping equipment, to supply into the municipal and regulated wastewater market. It will see its compressor increasingly used in aeration equipment for the treatment of wastewater across the world.
Lontra eyes £50 billion global market
The business is now turning its attention to other markets. Compressed air is used across industry for making things. It is found in our fridges and in our vehicle engines and air conditioning systems.
The global market for low and medium pressure compressors is estimated at £50 billion a year.
Steve said:
The support we have had from Innovate UK over the years has really helped us to focus on where our technology fits the best. It's something we wouldn't have been able to do without the support from Innovate UK and from the Carbon Trust.
Our latest Innovate UK award is allowing us to look at taking the technology from a current large and expanding market and developing it into the next market, which is the compressor in every factory.
Business looks at manufacturing base in Midlands
Lontra recently opened a new technology centre that will help it to efficiently and quickly adapt the compressor to new markets.
It has also won funding from the European Horizon 2020 scheme to help it to expand into 'pneumatic conveying' – a common way of moving such things as foodstuffs, cement and pharmaceuticals by blowing them along tubes.
Lontra started more than 10 years ago in London and moved to the Midlands where it could find the engineering staff and sub-contractors it needed to progress. It now employs around 20 people and is looking at building a significant manufacturing site.
Steve added:
Having looked at this very carefully, we believe we can manufacture our compressors in the Midlands and compete globally.
Lontra has entered a partnership with one of the UK's large manufacturers, Shield Group Engineering, and the two are looking at the potential for a manufacturing facility in the near future.
Published 3 January 2017