This guide explains how to structure question pages.
Meeting the Digital Service Standard
To pass point 13 (make the user experience consistent with GOV.UK) in your service assessments, you must use GOV.UK design patterns and guidance.
Read the guide on using, adapting and creating design patterns before you start designing or building anything.
Example of a question page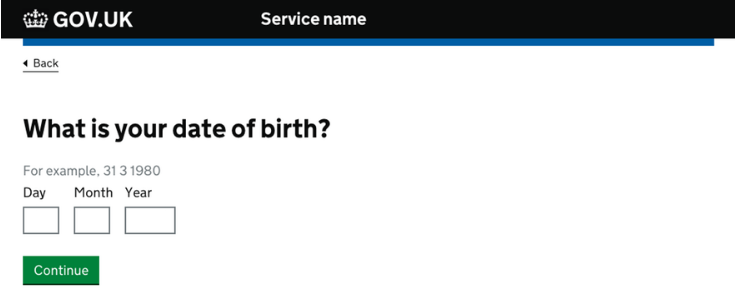 Get the code
You can get the code and assets you need for question pages in GOV.UK elements.
Setting up a question page
Question pages should include a:
back link
page heading
continue button
Read a guide on how to structure complex, multi-page forms.
Back link
Always include a back link on question pages.
Some users don't trust browser 'back' buttons when they're entering data. Adding a 'back' link reassures them that it's possible to go back and change previous answers.
This should be at the top of the page because users are most likely to want to go back when they first land on a page. Make sure it takes them to the previous page and that it works when JavaScript isn't available.
Page headings
You can use a statement or question format for page headings. Once you've chosen a format, try to use it consistently across all your question pages (unless you have a good reason not to).
Using a question as the page heading
If you're only asking for one piece of information on a page, use a question as the page heading - for example, 'Where do you live?'.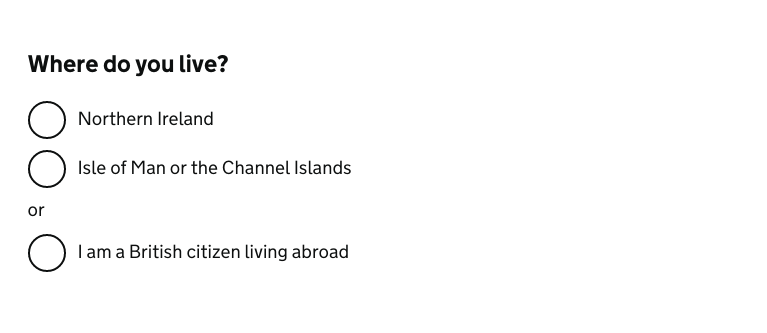 There's a coded example of a question as the page heading for a set of radio buttons in the GOV.UK elements guide.
Using a statement as the page heading
If you need to group related questions on a single page, use a statement as the heading.
This example uses 'Passport details' to describe the related questions: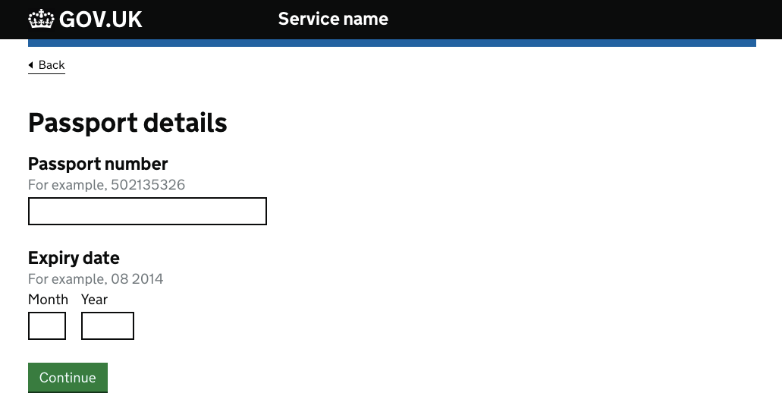 Section headings
Avoid duplicating the same page heading across multiple pages.
The page heading should relate specifically to the information being asked for on the current page, not any higher-level section the page is part of.
If you need to show the high-level section, you can use the 'secondary-heading' style - for example, 'About you'.

Continue button
Make sure your 'Continue' button is:
labelled 'Continue', not 'Next'
aligned to the left so users don't miss it
Asking users questions
When asking questions, you should:
explain why they'll be asked questions
say how many questions users might need to answer
order questions to give most users the quickest result
only ask questions that users will be able to answer
avoid asking for information that you can find in government data
allow users to answer 'I don't know' or 'I'm not sure' - if these are valid responses
translate supporting documents into clear questions on the page - don't force users to go away and read background information before they can give an answer
Discuss question pages
Discuss question pages on the design patterns wiki.
Examples and case studies
Read a blog post about asking questions using 'one thing per page'.
Related guides
You may also find these guides useful:
Published by:

Last update:

Removed incorrect guidance on use of headings inside <legend> elements.
Guidance first published