Design
Confirmation pages
This guide explains how to tell users they've completed a transaction.
Meeting the Digital Service Standard
To pass point 13 (make the user experience consistent with GOV.UK) in your service assessments, you must use GOV.UK design patterns and guidance.
Read the guide on using, adapting and creating patterns before you start designing or building anything.
Example of a confirmation page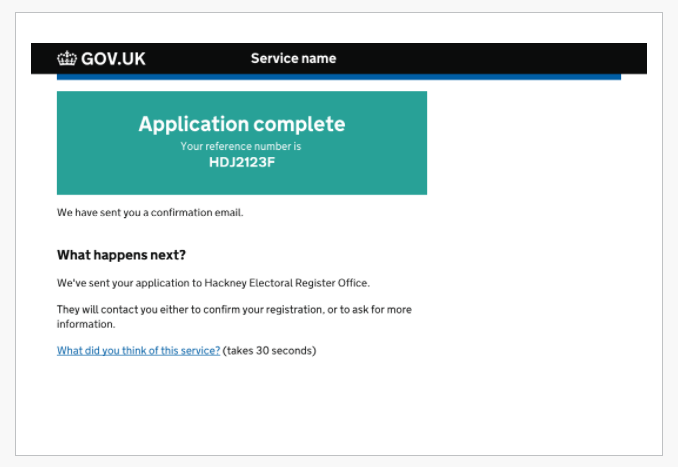 There's an example of this confirmation page in the GOV.UK prototyping kit.
Information you need to include
Your confirmation page should include:
a reference number (if there is one)
details of what happens next and when
contact details for the service
links to information or services that users are likely to need next
a link to your feedback page, where users can tell you what they think of the service
a way for users to save a record of the transaction (for example, as a PDF)
Helping users who bookmark the page
Some users will bookmark the confirmation page as a form of receipt. If you can, you should allow them to return to the page.
If you can't, make sure your service responds in a helpful way when users return using a bookmarked link. For example, if people use your service to make an application you could provide links to information on:
tracking an application
starting a new application
what to do (or who to contact) if you have a problem with your application
Read a blog post about users who bookmark confirmation pages.
Discuss confirmation pages
Discuss using confirmation pages on the design patterns wiki.
Related guides
You may also find these guides useful:
Published by:

Last update:

Guidance first published