Become a DVSA driving examiner
How to apply for driving examiner jobs at the Driver and Vehicle Standards Agency (DVSA), how the recruitment process works, and what the job involves.
What a driving examiner does
Driving examiners carry out a number of driving tests every day, including:
meeting candidates
carrying out eyesight and vehicle safety checks
assessing the candidate's driving ability on the road
They then report back on whether the candidate passed, and prepare for the next test.
Eligibility
To become a driving examiner you must:
be 24 or over
have had a UK or EU driving licence continuously for the last 4 years
have no more than 3 penalty points on your licence
You need a desire to help improve road safety.
You need to have a full category A licence to apply for a vacancy where fast-track motorcycle examiners are needed.
You need to have a full category C+E licence for manual vehicles to apply for a vacancy where fast-track large goods vehicle examiners are needed. It's also desirable to have a full category D licence, but it's not essential.
You don't need to have been a driving instructor to become a driving examiner.
Apply for a job
Driving examiners are employed by the Driver and Vehicle Standards Agency (DVSA), which is an executive agency of the Department for Transport.
Apply on the Civil Service jobs website when vacancies are being advertised.
Vacancy alerts
To get alerts when vacancies are advertised, you can:
Taking the assessment
There are 2 parts to the assessment.
Part 1: online driving examiner assessment
This assessment helps make sure you have the right attitudes and behaviours for the job. You'll answer questions about your:
personality - questions about your attitudes, opinions and experiences in a work environment
interpersonal skills - you'll be given 3 behaviours and asked to choose the one that's most and least important to you at work
situational judgement - you'll watch a video and need to choose the best and worst thing you could do from a list of possible actions
You're only allowed one attempt at the assessment.
You will not get feedback on your result because of the high numbers of people taking the test.
Part 2: assessment of driving or riding ability
You have to pass a driving assessment - you also have to pass a riding assessment if you've applied for a motorcycle examiner post.
Preparing for the assessment
The assessment is more rigorous than a driving test, and you have to drive to a higher standard.
Get training from organisations that specialise in advanced driver training to help you meet the standard.
Read The Official DVSA Guide to Driving - the essential skills and The Official DVSA Guide to Better Driving, which contain information on essential driving techniques including overtaking safely, defensive driving and manoeuvring.
Before the assessment starts
You'll take the assessment in a hire car. This is so every applicant has the same opportunity to drive or ride a modern car or motorcycle
You'll be given time to familiarise yourself with the controls.
You'll have to pass an eyesight test before the assessment starts. The rest of the assessment won't go ahead if you can't read a number plate from 20 metres.
How the assessment works
The drive will last for at least 60 minutes. You'll drive in varying road and traffic conditions, including motorways or dual carriageways where possible.
You'll have to show the examiner all of the following:
manoeuvres - you must be able to carry out a full range of common manoeuvres safely
independent driving - you must be able to drive without turn-by-turn directions from the examiner
commentary - you'll have to tell your examiner what you are doing, without affecting your driving performance
After your drive, you'll be asked some questions about the drive.
When you've passed the assessment
You'll be put on the merit list and be considered for a job offer. You may then be invited to take training to learn how to carry out driving tests.
DVSA cannot guarantee you a job even if you do pass the assessment.
If there are no vacancies in your chosen area, you'll stay on the merit list for 12 months. After that, you'll have to reapply and re-take the assessments if more vacancies are advertised.
Pre-employment checks
You have to give some information for pre-employment checks. These include:
an enhanced criminal record disclosure check
a health questionnaire to make sure you're fit for the job
mandatory Civil Service entry checks
You'll be made an offer of employment if you pass these checks.
Training to be a driving examiner
The driving examiner training course takes around 5 weeks and covers what you need to know to carry out driving tests safely and effectively.
You'll do some training at your driving test centre, and some at one of DVSA's regional training centres.
You'll be paid the full-time driving examiner salary while you're taking the training.
If your training is successful, you'll start working at a driving test centre
If you don't achieve the necessary performance standards during the training programme, your employment with DVSA will end.
Training at your driving test centre
For the first 2 weeks of your training, you'll be based at your driving test centre, so you can:
meet your colleagues
become familiar with the environment
learn the driving test routes
sit in on driving tests being carried out by existing driving examiners
You'll get one-to-one mentoring from one of your colleagues on things like:
meeting candidates in the waiting room
carrying out eyesight checks
what wording to use during the driving test
learning the driving test route
Training at a regional training centre
You'll do the rest of your training at one of DVSA's regional training centres.
The course will cover a range of topics, including:
developing your driving skills
how to control a driving test
how to assess the standard of driving
Being a driving examiner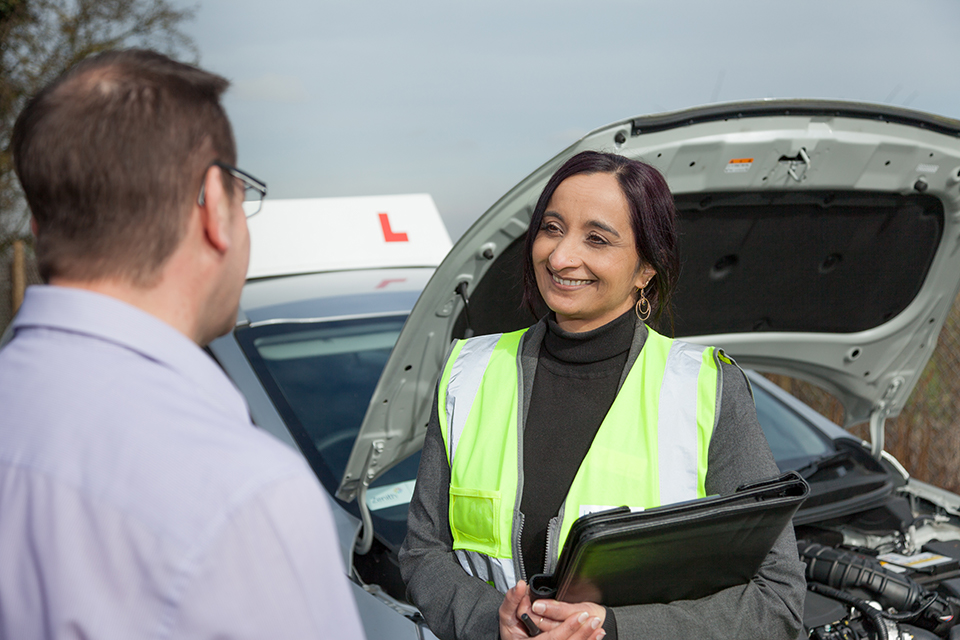 Once you've passed your training, you'll start working as a driving examiner at your test centre.
Every day you'll carry out a number of driving tests - each to the same standard. You'll follow the guidance for driving examiners carrying out driving tests and use everything you learned in your training. You'll assess that learner drivers meet the national standard for driving cars.
Probation period
You'll be on probation for 9 months. You'll be monitored regularly by your manager while you're in your probation period.
Even when you've finished your probation, you'll still be monitored to make sure you keep the same high standards.
Your responsibilities
You'll be responsible for:
conducting driving test appointments
administration of test results
periodic training to keep your skills sharp
Working hours and salary
You will:
work an average of 37 hours per week
start on a salary of £24,876, with allowances up to £4,000 in some areas
get monthly flexibility payments if you meet certain criteria
What it's like working at DVSA
As a driving examiner, you'll be a civil servant. This means that you'll need to follow the Civil Service code, which sets out the standards of behaviour expected of all civil servants to uphold the Civil Service's core values.
You can find out more about what it's like working at DVSA, which includes information on benefits, your health and wellbeing, and professional development.
Published 26 September 2016
Last updated 7 June 2018
+ show all updates
Updated the guide with information about what's involved in being a driving examiner and the recruitment process.

Updated information about the assessment process.

First published.