Published 11 February 2016
© Crown copyright 2016
This publication is licensed under the terms of the Open Government Licence v3.0 except where otherwise stated. To view this licence, visit nationalarchives.gov.uk/doc/open-government-licence/version/3 or write to the Information Policy Team, The National Archives, Kew, London TW9 4DU, or email: psi@nationalarchives.gsi.gov.uk.
Where we have identified any third party copyright information you will need to obtain permission from the copyright holders concerned.
This publication is available at https://www.gov.uk/government/publications/govuk-pay/govuk-pay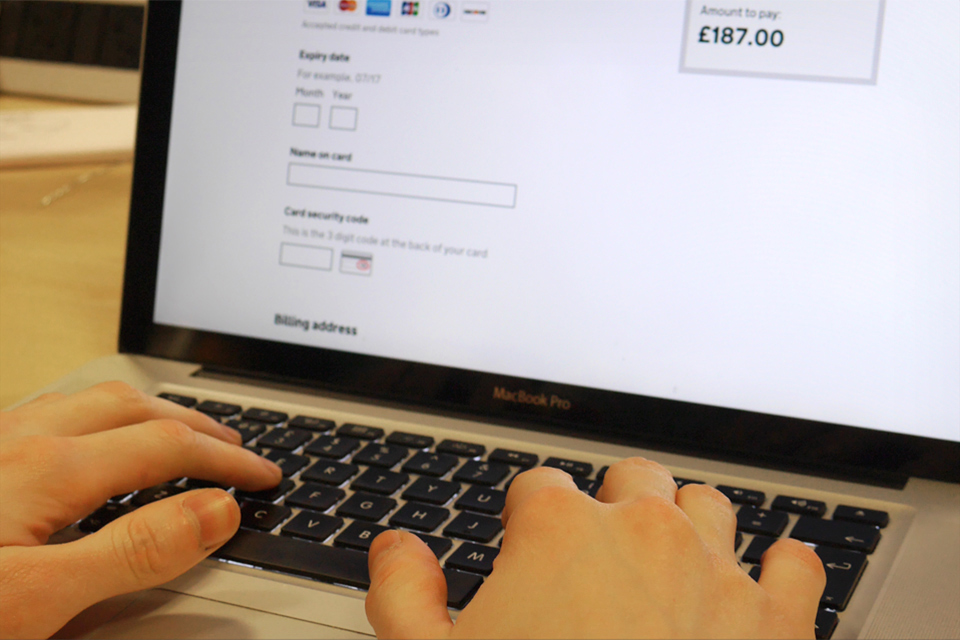 In the past, every government service had its own way of doing common things, like taking payments. That led to lots of duplication and inefficiency, making things more difficult for users and much more expensive for government.
Instead of hundreds of different payment systems, the Government Digital Service (GDS) is building one simple, convenient way to process payments for every government service to use. This is GOV.UK Pay.
GOV.UK Pay allows users to pay government the same way, regardless of what service they're using. It provides a common method for users, whether they're applying for a passport or renewing a licence.
1.

How GOV.UK Pay works

GOV.UK Pay builds technical integrations with payment service providers to make it simple for services across central government to take online payments. It will also reduce processing costs for government.

GOV.UK Pay is being built by the Government Digital Service (GDS), working with government departments, payment service providers, and the wider public sector.
1.1

Better for users

We're developing a common way of taking payments online that will be available to all government service teams.

This will:
make it simpler, easier and faster for users to pay for government services
improve choice for users by making a wider range of online payment methods available
make it possible to receive refunds more quickly
1.2

Better for government services

GOV.UK Pay will do the hard work of building technical integrations with a number of leading payment service providers so that individual services don't have to.

This will:
make it simpler, easier and faster for government services to start taking payments
give government teams more options to take online payments, including credit and debit cards
increase efficiency in government payment processing by reducing the need for manual payment processing
make it easier for teams to reconcile payments and issue refunds
2.

Status

GOV.UK Pay is currently in beta.

The following government departments are involved in the development of GOV.UK Pay as beta partners:
Companies House
the Environment Agency
the Home Office
the Ministry of Justice
GOV.UK Pay isn't currently available for local authorities as we're focusing on central government needs. Extending it to local government is something we're looking to do in the future but there are a number of questions that need to be answered before that happens. The Verify team are talking to local authorities at the moment and their findings will help shape how we work with them in the future. If you're a local authority that wants to reuse GaaP components then get in touch with the Verify team who have blogged here.
3.

Find out more

We're regularly blogging about our work and you can find the latest updates on the Government as a Platform blog.