Press release
Triton Knoll Offshore Wind Farm given development consent
The Triton Knoll Offshore wind farm has been given development consent by the Department for Energy and Climate Change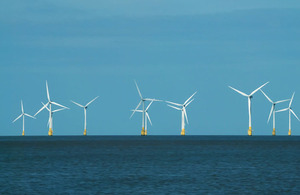 Today, 11 July 2013, the Triton Knoll Offshore wind farm which comprises the construction and operation of up to 288 wind turbine generators with a maximum tip height of up to 220 metres, offshore substations, meteorological stations and underwater cabling to connect the turbines and substations, has been given development consent by the Department for Energy and Climate Change.
The decision follows an examination process by the Planning Inspectorate which met all the statutory timescales laid down in the Planning Act 2008.
The application was submitted for consideration on 31 January 2012 and accepted for examination on 23 February 2012.
Following a six month examination during which the public, statutory consultees and interested parties were given the opportunity to give evidence to the Examining Authority, a recommendation was made to the Energy Secretary on 17 April 2013.
Planning Inspectorate's Chief Executive, Sir Michael Pitt, said. "This is the largest offshore wind energy application to be examined by the Planning Inspectorate and required a Panel of three Examining Inspectors who were given the task of considering the evidence put to them by the interested parties."
"The examination of the application was completed within the timescales prescribed in the Planning Act and a recommendation made to the Energy Secretary. Today's decision by the Energy Secretary supports that recommendation."
The decision, the recommendation made by the Examining Authority to the Secretary of State and the evidence considered by the Examining Authority in reaching its decision, is publicly available on the National Infrastructure website.
Ends
Journalists wanting further information should contact the Planning Inspectorate Press Office, on: 0303 444 5004 or 0303 444 5005 or email: pressoffice@pins.gsi.gov.uk
Notes to editors:
From April 2012, the relevant Secretary of State became the decision maker on all national infrastructure applications for development consent. At the end of the examination of an application, which will still be completed within a maximum of six months, the Planning Inspectorate will have 3 months to make a recommendation to the relevant Secretary of State who will then have a further 3 months to reach their decision.
The Planning Inspectorate, National Infrastructure Programme of Projects details the proposals which are anticipated to be submitted to the Planning Inspectorate as applications in the coming months.
Published 11 July 2013