Press release
Triton Knoll Electrical System given development consent
The application for the Triton Knoll Electrical System has been given development consent by the Department for Business, Energy and Industrial Strategy.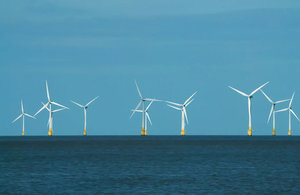 Triton Knoll Electrical System works are needed to transmit the electricity generated by the consented Triton Knoll Offshore Wind Farm to the National Grid substation at Bicker Fen in Lincolnshire. The Secretary of State for Energy and Climate Change directed on 14 November 2013 (in accordance with section 105 of the Planning Act 2008) that these works require development consent under the Planning Act 2008. The electrical system will include: onshore and offshore buried export cables and associated works; an intermediate electrical compound to provide voltage stability and compensate for electrical losses; and a substation located in the vicinity of the grid connection point.
The application was submitted to the Planning Inspectorate for consideration on 24 April 2015 and accepted for examination on 21 May 2015. Following a six month examination during which the public, statutory consultees and interested parties were given the opportunity to give evidence to the Examining Authority, a recommendation was made to the then Secretary of State for Energy and Climate Change on 3 June 2016.
The Planning Inspectorate is committed to giving local communities the opportunity of being involved in the examination of projects that may affect them. Local people, the local authority and other interested parties were able to participate in the 6 month long examination. Almost 200 people made representations about the project. The Examining Authority listened and gave full consideration to local views before making their recommendation.
Sarah Richards, Chief Executive of The Planning Inspectorate said:
"A major priority for us over the course of the examination was to ensure that communities who might be affected by this proposal had the opportunity to put forward their views. As always, the Examining Authority gave careful consideration to these before reaching a conclusion."
The decision, the recommendation made by the Examining Authority to the Secretary of State and the evidence considered by the Examining Authority in reaching its recommendation is publicly available on the National Infrastructure Planning website.
Ends
Journalists wanting further information should contact the Planning Inspectorate Press Office, on: 0303 444 5004 or 0303 444 5005 or email: pressoffice@pins.gsi.gov.uk
Notes to editors:
The Planning Inspectorate, National Infrastructure Programme of Projects details the proposals which are anticipated to be submitted to the Planning Inspectorate as applications in the coming months. It can be viewed at https://infrastructure.planninginspectorate.gov.uk/
Published 6 September 2016