Press release
Thames Tideway Tunnel (super sewer) given development consent
The Thames Tideway Tunnel has been given development consent by the Secretary of State for the Environment and the Secretary of State for Communities and Local Government.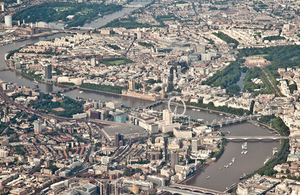 The decision supports the recommendation made by the Planning Inspectorate. The examination process met or exceeded all the statutory timescales laid down in the Planning Act 2008 (as amended by the Localism Act 2011).
The application, consisting of over 50,000 pages and over 1,000 plans, is the first waste water project to be submitted and the largest Nationally Significant Infrastructure Project (NSIP) to be examined by the Planning Inspectorate. It was submitted for consideration on 28 February 2013 and accepted for examination on 27 March 2013.
During the six month examination the public and statutory consultees had the opportunity to give evidence to the Examining Authority at over 40 combined days of hearings. More than 1,200 representations from interested parties were considered and in excess of 400 written questions were asked by the Examining Authority. A recommendation was made to the two Secretaries of State on 12 June 2014.
The Planning Inspectorate's Chief Executive, Simon Ridley, said. "Thames Tideway Tunnel is by far the largest application to go through the National Infrastructure regime. As such it required a Panel of five Examining Inspectors who were given the task of considering all the evidence put to them by the interested parties."
"The Panel took full account of views from communities across a number of London Boroughs who might be affected by this proposal alongside national policy and evidence of the need for the project."
"The Planning Inspectorate demonstrated its ability to undertake a thorough examination of the issues involved within the timescales laid down in the Planning Act 2008. This provides confidence that public views are considered within timescales that provide support for investment in the UK's infrastructure needs across different sectors now and in the future."
The decision, the recommendation made by the Panel to the Secretary of State and the evidence considered by the Examining Authority in reaching its decision, is publicly available on the Planning Portal's, National Infrastructure projects website.
Ends
Notes to editors:
Journalists requiring further information should contact the Planning Inspectorate Press Office, on: 0303 444 5004 or 0303 444 5005 or email: pressoffice@pins.gsi.gov.uk.

From April 2012, the relevant Secretary of State became the decision maker on all national infrastructure applications for development consent. At the end of the examination of an application, which will still be completed within a maximum of six months, the Planning Inspectorate will have three months to make a recommendation to the relevant Secretary of State who will then have a further three months to reach their decision. The application process.

The Planning Inspectorate, National Infrastructure Programme of Projects details the proposals which are anticipated to be submitted to the Planning Inspectorate as applications in the coming months. It can be viewed on the National Infrastructure website
Published 12 September 2014