Press release
Sarah Richards appointed as Chief Executive of The Planning Inspectorate
The Department for Communities and Local Government has today announced Sarah Richards as the new Chief Executive of The Planning Inspectorate.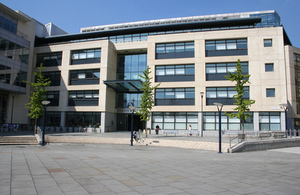 Sarah is currently Strategic Director Regeneration, Housing and Resources, at Slough Borough Council a post she has held since 2013. Sarah has accumulated vast experience in planning. Having begun her career as a planner with the Greater London Council, Sarah progressed to Director of Planning for Test Valley Borough Council and then became head of the Planning Advisory Service before spending four years at Essex County Council in the role of Director for Sustainable Environment and Enterprise and as Head of Strategic Commissioning.
Sara Weller, Chair of the Planning Inspectorate's Board, said:
"I am delighted that Sarah Richards will be joining The Planning Inspectorate as the Chief Executive. Sarah brings with her a record of strong leadership and operational delivery to a position that is key to ensuring the Inspectorate delivers its vital role in the planning system. I would also like to thank Steve Quartermain, DCLG Chief Planner, for his role as acting Chief Executive over the last few months during and for the work he has done in this time."
Commenting on her appointment, Sarah Richards said:
"I am very much looking forward to joining The Planning Inspectorate as the new Chief Executive. I know what an important job the Inspectorate plays in upholding a fair planning system, helping the country meet its future infrastructure needs and supporting communities shape where they live." Ends
Journalists wanting further information should contact the Planning Inspectorate Press Office, on: 0303 444 5004 or 0303 444 5005 or email: pressoffice@pins.gsi.gov.uk
Notes to Editors
The Planning Inspectorate is an executive agency of the Department of Communities and Local Government (DCLG). It deals with planning appeals, national infrastructure planning applications, examinations of local plans and other planning-related and specialist casework in England and Wales.
The Chief Executive is personally responsible for the effective management of The Planning Inspectorate in accordance with the framework document (which describes the Inspectorate's relationship with DCLG) and in accordance with the normal Civil Service rules on propriety and securing value for money.
Published 17 December 2015