Press release
Knottingley Power Project given development consent
Today, Tuesday 10 March 2015, the application for the Knottingley Power Project has been given development consent by the Department for Energy and Climate Change.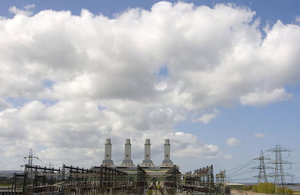 The Knottingley Power Project consisting of a 1500 MW Combined Cycle Gas Turbine (CCGT) power station and associated infrastructure will be located at the site of the former Oxiris Chemical works, East Knottingley, Yorkshire.
The decision announced today supports the recommendation made by the Planning Inspectorate and follows an examination process which met or exceeded all the statutory timescales laid down in The Planning Act 2008 (as amended by The Localism Act 2011).
The application was submitted for consideration on 4 October 2013 and accepted for examination on 31 October 2013. It is the 36th project to be decided under the Planning Act 2008 regime and is the 3rd CCGT power station examined by the Planning Inspectorate to gain development consent.
Following a six month examination during which the public, statutory consultees and interested parties were given the opportunity to give evidence to the Examining Authority, a recommendation was made to the Secretary of State for Energy and Climate Change on 12 December 2014.
The Planning Inspectorate's Chief Executive, Simon Ridley, said:
"This is the 36th application for a nationally significant infrastructure project to be examined by The Planning Inspectorate. The examination, recommendation and decision have been within the statutory timescales laid down in the Planning Act 2008."
"Local people, the local authority and other interested parties were able to participate in the 6 month long examination. This, together with the certainty of knowing when a decision will be made, provides confidence in the planning process and aide the infrastructure improvements this country needs to secure its energy and future economic growth."
The decision, the recommendation made by the Examining Authority to the Secretary of State and the evidence considered by the Examining Authority in reaching its recommendation is publicly available on the National Infrastructure Planning website.
Ends
Journalists wanting further information should contact the Planning Inspectorate Press Office, on: 0303 444 5004 or 0303 444 5005 or email: pressoffice@pins.gsi.gov.uk
Notes to editors:
The Planning Inspectorate, National Infrastructure Programme of Projects details the proposals which are anticipated to be submitted to the Planning Inspectorate as applications in the coming months.
Published 10 March 2015