Press release
Ferrybridge Multifuel 2 Power Station given development consent
On 28 October 2015, the application for the Ferrybridge Mutlifuel 2 (FM2) Power Station was given development consent by the Department for Energy and Climate Change.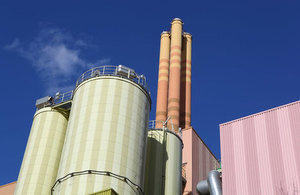 The proposed multifuel power station will have a capacity of up to 90 MWe Gross, capable of producing low carbon electricity and heat primarily through waste derived fuel from various sources of processed municipal solid waste, commercial and industrial waste and waste wood. The site is located within the site of Ferrybridge 'C' Power Station, Stranglands Lane, Knottingley, West Yorkshire
The application was submitted for consideration on 31 July 2014 and accepted for examination on 20 August 2014. The decision follows an examination process completed within the statutory timescales laid down in The Planning Act 2008 (as amended by The Localism Act 2011). It is the 9th power station examined by the Planning Inspectorate to gain development consent.
Following a six month examination during which the public, statutory consultees and interested parties were given the opportunity to give evidence to the Examining Authority, a recommendation was made to the Secretary of State for Energy and Climate Change on 29 July 2015.
The Planning Inspectorate's interim Chief Executive, Steve Quartermain, said:
"The decision announced today supports the recommendation made by the Planning Inspectorate and is the 43rd application for a nationally significant infrastructure project to be examined."
"A major priority for us over the course of the examination was to ensure that communities who might be affected by this proposal had the opportunity to put forward their views. As always, the Examining Authority gave careful consideration to these before reaching its conclusion."
The decision, the recommendation made by the Examining Authority to the Secretary of State and the evidence considered by the Examining Authority in reaching its recommendation is publicly available on the National Infrastructure Planning website.
Ends
Journalists wanting further information should contact the Planning Inspectorate Press Office, on: 0303 444 5004 or 0303 444 5005 or email: press.office@pins.gsi.gov.uk.
Notes to editors:
The Planning Inspectorate's National Infrastructure Programme of Projects details the proposals which are anticipated to be submitted to the Planning Inspectorate as applications in the coming months.
Published 28 October 2015