Press release
Dogger Bank Creyke Beck offshore wind farm given development consent
Today, Tuesday 17 February 2015, the application for Dogger Bank Creyke Beck offshore wind farm has been given development consent by the Department for Energy and Climate Change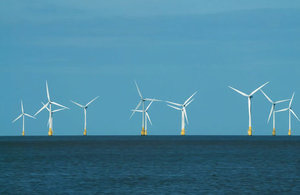 Dogger Bank Creyke Beck (previously known as Dogger Bank Offshore Wind Farm) is the first stage of Forewind's offshore wind energy development of the Dogger Bank Zone (Zone 3, Round 3). It will comprise two wind farms, each with an installed capacity of up to 1.2GW, which are expected to connect to the national grid in the East Riding of Yorkshire. Therefore, Dogger Bank Creyke Beck could have a total installed capacity of up to 2.4GW. The offshore wind farms will be located in the Dogger Bank Zone which is located between 125km to 290km off the coast of East Yorkshire. The onshore elements of the development will be located in the East Riding of Yorkshire.
The decision announced today supports the recommendation made by the Planning Inspectorate and follows an examination process which met or exceeded all the statutory timescales laid down in The Planning Act 2008 (as amended by The Localism Act 2011).
The application was submitted for consideration on 29 August 2013 and accepted for examination on 25 September 2013. It is the 35th project to be decided under the Planning Act 2008 regime and is the 11th wind farm application examined by the Planning Inspectorate to gain development consent.
Following a six month examination during which the public, statutory consultees and interested parties were given the opportunity to give evidence to the Examining Authority, a recommendation was made to the Secretary of State for Energy and Climate Change on 17 November 2014.
The Planning Inspectorate's Chief Executive, Simon Ridley, said:
"Alongside national policy and evidence of the need for the project, the views and comments from communities, particularly those near the East coast of England who might be affected by this proposal, greatly assisted the Examining Authority in considering the visual and environmental impact of the project."
"To date, The Planning Inspectorate has examined 35 applications for nationally significant infrastructure projects, all within the statutory timescales laid down in the Planning Act 2008. This certainty of knowing when a decision will be made and following full consideration of public views, provides developers and investors with the confidence needed to plan the infrastructure improvements this country needs to secure its energy and future economic growth."
The decision, the recommendation made by the Examining Authority to the Secretary of State and the evidence considered by the Examining Authority in reaching its recommendation is publicly available on the National Infrastructure Planning website..
Ends
Journalists wanting further information should contact the Planning Inspectorate Press Office, on: 0303 444 5004 or 0303 444 5005 or email: pressoffice@pins.gsi.gov.uk
Notes to editors:
The Planning Inspectorate, National Infrastructure Programme of Projects details the proposals which are anticipated to be submitted to the Planning Inspectorate as applications in the coming months.
Published 20 February 2015