Press release
A.14 Cambridge to Huntingdon Highway Improvement Scheme
Registration opens to make a representation about the application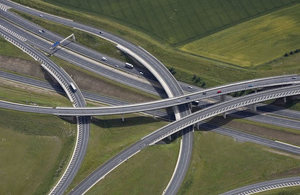 Members of the public are now invited to register with The Planning Inspectorate and make a representation about the proposed A.14 Cambridge to Huntingdon Improvement scheme.
The application was submitted on 31 December 2014 and the decision to accept the application to proceed was made on 27 January 2015 in accordance with section 55 of the Planning Act 2008 (as amended by the Localism Act 2011).
The proposed project involves the improvement and upgrading of a 23-mile length of strategic highway between Cambridge and Huntingdon, the widening of a 2-mile stretch of the A1 between Alconbury and Brampton, and the modification and improvement of the associated local-road network within this corridor. The public and those interested in the proposal can register with the Planning Inspectorate between 2 February 2015 and 12 March 2015.
People can register easily online at: http://infrastructure.planningportal.gov.uk/projects/Eastern/A14-Cambridge-to-Huntingdon-Improvement-Scheme/ Alternatively, they may call The Planning Inspectorate's helpline: 0303 444 5000 for a printed registration form, which must be completed and returned by 12 March 2015.
Simon Ridley, Chief Executive of The Planning Inspectorate said. "This is an opportunity for people to play a part in the planning process and influence the outcome. We encourage people to get involved by registering as an interested party. By doing so, people will be able to participate fully in the examination of this proposal".
Those who register will be entitled to provide evidence in writing to support their representation, to attend the Preliminary Meeting, to request an open floor hearing and to speak at other hearings where appropriate.
A copy of the application together with further information about the proposal and how to register to make a relevant representation is available on National Infrastructure Planning Website.
Ends
Journalists wanting further information should contact the Planning Inspectorate's Press Office, on: 0303 444 5004 or 0303 444 5005 or 0303 444 5082 or email: pressoffice@pins.gsi.gov.uk
Copies of Application Documents
Copies of the application documents can also be viewed online at the A.14 Cambridge to Huntingdon Improvement Scheme Project webpage on the National Infrastructure Planning Website.
Notes to editors:
Under the Localism Act, the IPC was abolished on 1 April 2012 and its work transferred to the Planning Inspectorate. A new national infrastructure directorate has been created within a restructured Planning Inspectorate.
As from April 2012, the relevant Secretary of State is the decision maker on all national infrastructure applications for development consent. At the end of the examination of an application, which will still be completed within a maximum of six months, the Planning Inspectorate will have 3 months to make a recommendation to the relevant Secretary of State who will then have a further 3 months to reach their decision.
The Planning Inspectorate, National Infrastructure Programme of Projects details the proposals which are anticipated to be submitted to the Planning Inspectorate as applications in the coming months.
Published 2 February 2015