Case study
Susan, Cumbria: Work Programme real life story
From:

Part of:

Published:

22 August 2014
Work Programme just the tonic to help Susan rebuild her life.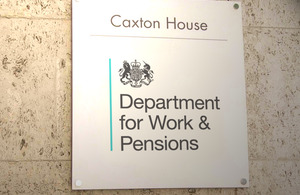 Susan and Alan Maudling decided they needed a new challenge and applied to run a Conservative club 50 miles down the coast from their home village in Cumbria, and were astonished when they got the job. "We loved it," said Susan, 57. "We were good at it, we made friends and we really enjoyed working together. We made a great team."
But just 10 months into their adventure, tragedy struck. Alan died suddenly of a heart attack in September, 2009 and Susan's world fell apart.
She said: "I suppose I had a breakdown. I was really ill. I couldn't do the simplest things. I lost all my confidence, I didn't want to see anyone or even leave the house. I felt bitter and angry, but I knew it wasn't anyone's fault, so I didn't want to see anyone or anyone to see the state I was in"
After three years, she was referred to the Work Programme and it was just the tonic she needed to slowly get herself back into the right frame of mind to pick up the pieces of her broken life and move on.
"I was a nervous wreck when I arrived at the centre in Workington but I soon started to feel my confidence coming back. Just getting on the bus and talking to people was a challenge but I was proud of myself with every small step I took"
Susan gained a maths entry level 3 qualification, which she worked hard at to pass, and attended a back-to-work course.
She said: "I had done the books at the club but I had lost that skill completely through the shock. It was rewarding to go home and study, I really enjoyed it."
She applied for retail and cleaning work and in May was invited for her first interview for a hotel housekeeping post.
"I am a different person now I'm working. The girls I work with are great. I have a laugh. I used to feel guilty about laughing. My daughters are proud of me and I know Alan would be. He wouldn't have wanted me hiding away at home"
The Work Programme, now in its third year of operation, provides tailored support for unemployed customers who need more help to undertake active and effective job-seeking.
Document information
Published: 22 August 2014