Case study
Becky – When I first met Anita her confidence was wrecked
From:

Part of:

Published:

15 October 2013
How Jobcentre Plus can help victims of domestic violence turn their lives around.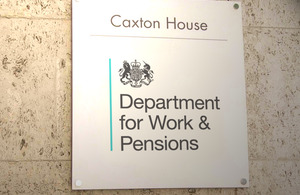 Domestic violence is not only a crime but also a major barrier to job seeking for its victims. Jobcentre Plus advisers are helping claimants who are victims of domestic violence to rebuild their lives.
Anita (not her real name) came to the Housing 4 Women refuge in Greenwich after her family stopped her from going to work or socialising with people. Her family wanted her to marry a man of their choice and not 'dishonour' them.
Housing 4 Women is one of 5 refuges in Greenwich offering support and a safe house for victims of domestic violence, `honour' based violence, ex-offenders, women who have been trafficked and those that have become reliant on drugs and alcohol.
Some of the women at the refuges have never been in a formal environment like a Jobcentre. Some have even been forbidden to interact with males outside their family which can be a huge cultural barrier. A high percentage of the victims are from an Asian background.
Becky Milsom, from Woolwich Jobcentre, and Amy Hawkes, from Jobcentre Plus South London District, are working with women from the refuges, such as Anita, to explain how Jobcentre Plus could help them. Becky says:
When I first met Anita, her confidence was wrecked and she was feeling really despondent. She didn't feel capable of doing anything. However as we worked together during my visits to the refuge I gained Anita's trust and put in place available measures for a domestic violence victim.
Becky explained that as a victim of domestic violence, Anita could claim the 13 week Jobseeker's Allowance easement, excusing victims from labour market conditionality requirements.
The easement period allowed Anita time to sort out her life. It allowed her the flexibility to move and settle into a new area, time to speak to a local charity specialist advice centre and time to seek legal advice.
Anita went on to complete an English language course and then an adult social care course, which she passed gaining a BTEC qualification. Following this Becky prepared CV writing and interview sessions for Anita and other residents at the refuge.
Anita began applying for jobs and only a month later was employed by a local care provider which was fantastic.
The JSA rules for victims of domestic violence
In April 2012, DWP introduced new rules for victims of actual or threatened domestic violence claiming JSA. These mean that claimants are not required to be actively looking for employment for an initial 4 week period providing they meet certain conditions, which can extend to a total of 13 weeks in certain circumstances.
Becky and Amy have used their experiences to write and present a workshop about domestic violence that is now available for other Jobcentre Plus staff.
Document information
Published: 15 October 2013